Montero, Scottish Ensemble, Kings Place review - new music with a political edge |

reviews, news & interviews
Montero, Scottish Ensemble, Kings Place review - new music with a political edge
Montero, Scottish Ensemble, Kings Place review - new music with a political edge
Imaginative programming but the message sometimes overwhelmed the music
Saturday, 16 February 2019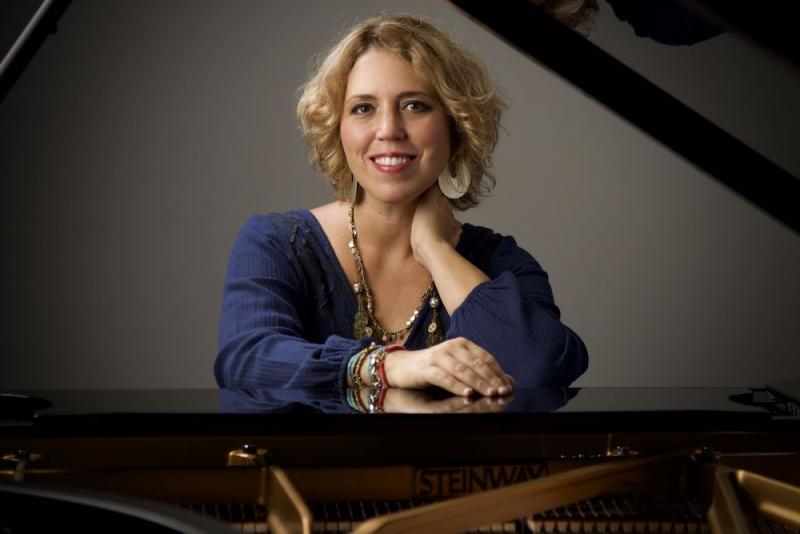 Venezuelan pianist, composer and improviser Gabriela Montero
The Venezuelan pianist and composer Gabriela Montero is an outspoken advocate for political change in her country, using her musical standing as a platform from which to highlight Venezuela's "hijacking" by "forces of criminality, barbarism and nihilism". She also seeks to express this struggle through her own music and indeed, in this case, through the programming and staging of a whole concert. In this, she was broadly successful, although not unreservedly so.
This concert, with the strings of the Scottish Ensemble, was centred around Montero's 2018 quasi-piano concerto Babel, surrounded by pieces that set individuals against the group, or expressed ideas of suffering and hope. Physically these ideas were explored through staging and lighting: there were two wheeled screens on stage, covered with transparent black mesh, that were re-configured throughout the evening. For Montero's own piece she was enclosed at the back of the stage by this cage, the players on the outside (with images of violence and suffering in Venezuela projected onto the screens). For Philip Glass's Echorus two solo violins were set in separate compartments at the front, the ensemble like distant onlookers.
The conceit was interesting and thought-provoking, but the idea of having all the stage re-sets done by the players themselves without applause between items led to stilted pauses while the frames were wheeled into place and the players manoeuvred their stands and chairs. I like innovative approaches to staging concerts, but this didn't quite have the intended flow.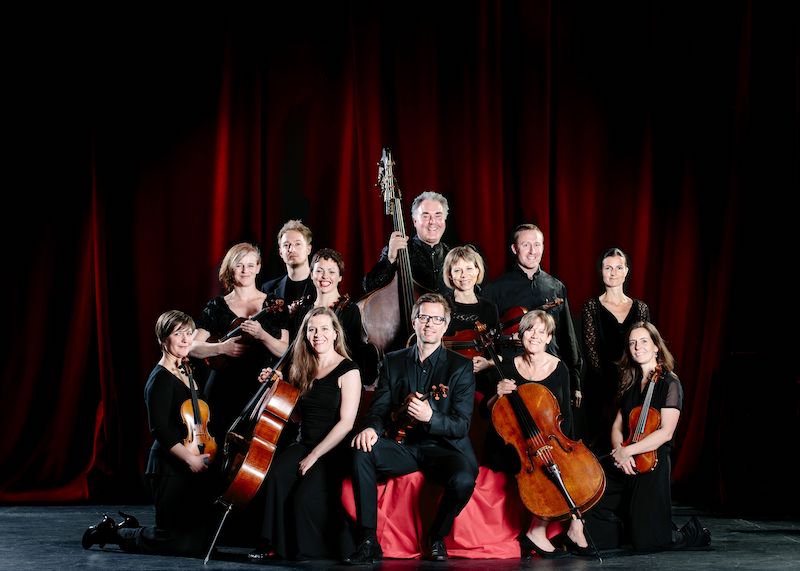 The playing, though, was very impressive, led by principal violinist and artistic director Jonathan Morton (pictured above with the Scottish Ensemble, by Sam McElroy). He was at times fragile, impassioned, sublime and violent, and he led the ensemble with charisma. The finale, the last movement of Messiaen's Quartet for the End of Time, was very moving, Montero's radiant piano tone cushioning Morton's rhapsodic intensity.
Montero is a renowned improviser and the programme opened with her improvising on three chords from the Messiaen, her simple figuration being joined by the strings, also improvising, towards a seething climax. It was a striking bit of music and led into the string orchestra version of Shostakovich's tenth string quartet. Here the deceptively conversational opening burst into the furious second movement, as the ensemble, physically contained by the cages, raged against its confinement in a clear nod to Shostakovich's own internal exile.
The second half started with Dobrinka Tabakova's Such Different Paths, in which the ensemble was set against each other in pairs, with a texture and modality that to me recalled Kevin Volans. Blocks of sound explored teeming counterpoint, some wonderful vibrato-less passages for the cellos and bass that evoked English viol consort music, and a wild refrain like an imagined folk music. I enjoyed the piece, the first I have heard by Tabakova, but I felt it ran a couple of minutes past the point where it might naturally have ended.
Montero's own Babel provides a bit of a dilemma. She describes it as a chance to "give voice to our pain and impotence", born of her frustration in trying to communicate her country's suffering. This is a heavy burden for a piece to bear. But so heartfelt is her mission that to critique the music seems almost a destructive act in itself.
There were some terrific passages – such as the opening, for solo piano, gradually surrounded by a halo of string chords. The toccata that followed was impassioned and had some of the anger of the earlier Shostakovich. There were less successful features, like a passage that required the players to act out confusion and dislocation. On the whole, I don't find asking players to act works well in practice. But the ensemble threw themselves into the piece, and Montero's playing was by turns fiery and fluent, and still and beautiful.
There was also some heavy symbolism: the piece began in dark and was gradually illuminated, and the cage, closed at first, was open by the end. But the music was a bit diffuse and, for me, overweighted with its own significance. I enjoyed it, but perhaps it would have been better left to stand on its own merits and let any message emerge more organically and less explicitly.
Nonetheless there was a genuinely warm reception for the new piece, and a cheer went up in the well-filled Kings Place Hall One when Montero flourished a Venezuelan flag at the curtain-call.
Montero described her own piece 'Babel' as a chance to 'give voice to our pain and impotence'
rating
Explore topics
Share this article