Ott, LSO, Stutzmann, Barbican review - highways to hell (and back) |

reviews, news & interviews
Ott, LSO, Stutzmann, Barbican review - highways to hell (and back)
Ott, LSO, Stutzmann, Barbican review - highways to hell (and back)
A bold and bracing ride through Romantic landscapes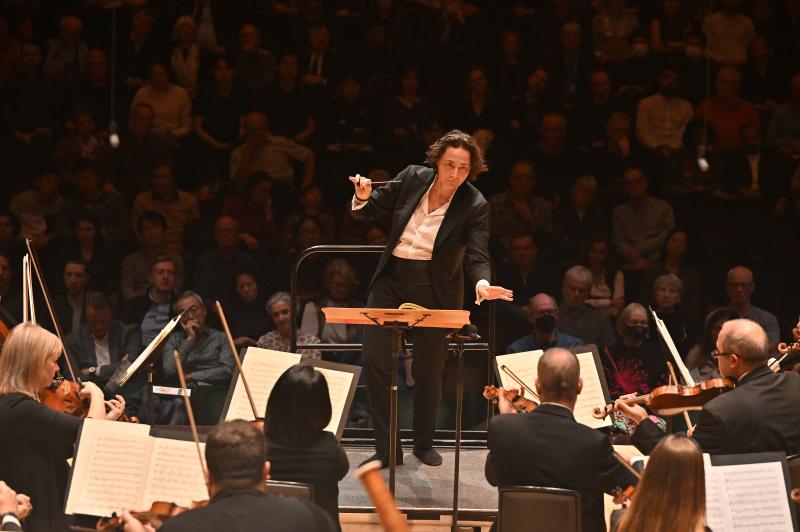 Storm and stress: Nathalie Stutzmann and the LSO
In a Renaissance artist's studio, a wannabe master proved his skill by drawing a perfect circle. Perhaps playing Beethoven's A minor Bagatelle (aka "Für Elise") as an encore should count as the pianist's equivalent. At the Barbican last night, Alice Sara Ott did just that with the ubiquitous ring-tone earworm.
It came after an assured performance of Beethoven's Third Piano Concerto with the London Symphony Orchestra conducted by Nathalie Stutzmann. And Ott traced its shape perfectly: feathery, supple, light, but not insipid.
If the LSO's rubric for this concert invoked "wild and stormy nights", it was a London Tube strike that presented the actual challenge to yesterday evening's audience (gracefully, Ott saluted us for turning up). The French contralto-turned-conductor had yoked three works from very different corners of the musical landscape of Romanticism. Beethoven's trail-blazing C minor tribute to, and breakaway from, the form of the Mozartian concerto was preceded by César Franck's Gothic-horror showpiece Le Chasseur Maudit. It was followed by Brahms's majestic Fourth Symphony, its tragic emotional palette enriched by the legacy of a Baroque past but looking forward to sound-worlds still to come.
In her sweeping gestures, generous dynamic range, and singer's grasp of the long, unfolding phrase, Stutzmann looks and sounds like a fitting companion for this kind of journey across the expanse of the 19th century (Beethoven wrote the third concerto in 1800). She never stinted on drama, colour and contrast, with thunderous fortissimos and lilting, leisurely episodes of calm. Sometimes, especially in Brahms, we might have appreciated a little more classical restraint and less exuberant Stürm und Drang. But her approach let the bold, rich and fiercely individual tones of each LSO section shine. It yielded an illuminating comparison to the more uniform, enveloping, string-heavy sumptuousness of the Amsterdam Concertgebouw, heard at the Barbican last week.
Last night, the LSO horns (led by Laurence Davies) had plenty of heavy lifting to undertake, and managed it all in fine style. Franck's symphonic poem about a blasphemous aristocratic hunter pursued by demons after he breaks the Sabbath dates from 1882. But its sinister, picturesque mood harks back to an earlier, Berlioz-era or even Freischütz world of ominous horn-calls, doomy forest rustlings and breakneck, devilish rides. Stutzmann's pulse and clarity kept the Gothic orchestral scene-painting just the right side of corny melodrama. We galloped (or waltzed) towards hell to the sound of some mountain-shaking tutti, and she steered the final accelerando of the demons' chase with defiant, Top Gear-style swagger.
Ott's Beethoven took us back to a foundational dialogue between Mozartian grace and the form-stretching passions of the new era. Robust and refined by turns, Ott commands both pianistic voices, her deft, elusive rubato touches as memorable as her spectacular trills and runs. At first I wondered if Stutzmann were firing the LSO engines a little too enthusiastically; but the soloist held firm and, in the heroic first-movement cadenza, blazed with a fierce but fully controlled flame.
The adagio showed us Stutzmann's gift for a silky, liquid sensuousness, while Ott guided us, gentle but never bland, through the piano's solitary harmonic journey. A dancing finale gave us springy, bouncing zest from soloist and orchestra alike, with some especially salty interjections from the woodwind desks. Stutzmann opened the throttle for a thrilling crescendo, but Ott had the power as well as the finesse to match her move for move. Those stalwart LSO horns – hefty, rounded, but not crude – launched and punctuated Brahms's Fourth. Stutzmann's reading did bring out the sheer tempestuousness of this voyage through ancient forms into new territory. She relished the rhythmic shocks of the first movement, with the brass as its hyperactive, angry engine-room. Here, and in the andante moderato with its sublime hymn-like theme, the strings – cellos above all – showed off all their bloom and warmth. This, however, was velvet always backed with steel.
After the festive heartiness of the scherzo, properly giocoso, the revolutionary, Bach-derived passacaglia of the finale unfolded with variations that allowed each instrumental voice to excel. Splendid woodwinds made the most of their chance to shine (Gareth Davies's flute, Juliana Koch's oboe, Chris Richards's clarinet). Stutzmann found an extra level of urgency and propulsion as the passacaglia's elements converged towards its climax, with brass in the ascendant again and the smoky, creamy trombones (Peter Moore and Matthew Lewis) making their mark. On this showing, the partnership clicks: Stutzmann and the LSO should whip up a few more storms for us.