Pushkin House Music Festival online review - Russian around Bloomsbury |

reviews, news & interviews
Pushkin House Music Festival online review - Russian around Bloomsbury
Pushkin House Music Festival online review - Russian around Bloomsbury
A feast in which the rare and the treasurable have a chance to shine
Dinara Klinton: formidable in Prokofiev
Sergey Prokofiev died on 5 March 1953, on the same day as Stalin. Perhaps that uncomfortable coincidence makes March the perfect time for a festival of Russian music. Pushkin House, the Russian cultural centre based in a Georgian villa in Bloomsbury, is holding one right now.
Filmed in their empty salon, their chamber music and solo recitals are online to view for several weeks, the concerts released one at a time on designated days, and offering some familiar music, but focusing on much that is unexpected and occasionally revelatory.
After an engaging introductory talk by the festival director, pianist Alexander Karpeyev, who is head of the Pushkin House musical programme, the first concert on 2 March contained two rare sonatas respectively by Glinka and Medtner. Yuri Zhislin, with his viola hat on, played Glinka's unfinished two-movement Sonata, composed somewhere between 1825 and 1828 and so unusual for its time that it wasn't published until 1932. In slightly Schuberty, mildly Beethoveny language, it is worth a listen, especially in Zhislin's dark and beautifully consistent tone, alive to all the drama and elegance which this gorgeous and ever-underrated (even now) instrument can conjure.
The violinist Natalia Lomeiko (pictured left) followed this with a much more startling piece: Nikolai Medtner's Sonata No.3, subtitled "Epica". And epic it is, a rhapsodic work written in the mid 1930s when the composer was on the point of leaving his homeland forever; he settled in London and ended up living in Golders Green. While the programme note reveals that this work is effectively a hymn to the motherland – "All of Russia poured into me," the composer told his wife – the astonishing thing is how much its themes have in common with not only Russian folk music but English as well. You could be forgiven, if listening blind, for thinking that the lilting, modal melodies and the inward and meditative moments were closer in some ways to Medtner's new home than to his old one, more akin to Vaughan Williams than Rachmaninov. Technically, of course, that isn't entirely the case, and the music has in common with his piano music an inspired fount of folk-inspired imagination and a deep vein of passion. This may be the first time we hear it, but it shouldn't be the last. Lomeiko brought it a magnificent range of colour and an assured, unquenchable virtuosity. Karpeyev was at the piano in both works, providing a sympathetic partnership and playing that was no less expert and glittering for being self-effacing.
The third concert brought him back to the piano, this time with the young British-Persian cellist Ariana Kashefi, for music by a pretty much forgotten composer, Iosef Genishta (1795-1853, pictured below) – in his own day nevertheless a celebrity who counted Pushkin among his friends, along with Schumann and Berlioz. His three cello sonatas reveal strong music with terrific melodic drive and a sense of drama that streamlines it with his contemporaries in Germany and Austria. Its westward leanings perhaps contribute to its lack of identifiable personal voice, despite being otherwise rewarding listening – something highlighted, if inadvertently, by interspersing the sonatas with Schumann's Drei Romanzen, Op 94, works by a composer you can recognise 20 miles away. Kashefi has a beautiful tone, but did not always seem entirely secure in the brand-new repertoire; Karpeyev again was an empathetic partner, but it has to be noted that the Pushkin House piano itself sounds not in the greatest of shape and may have contributed to the edginess of this particular performance.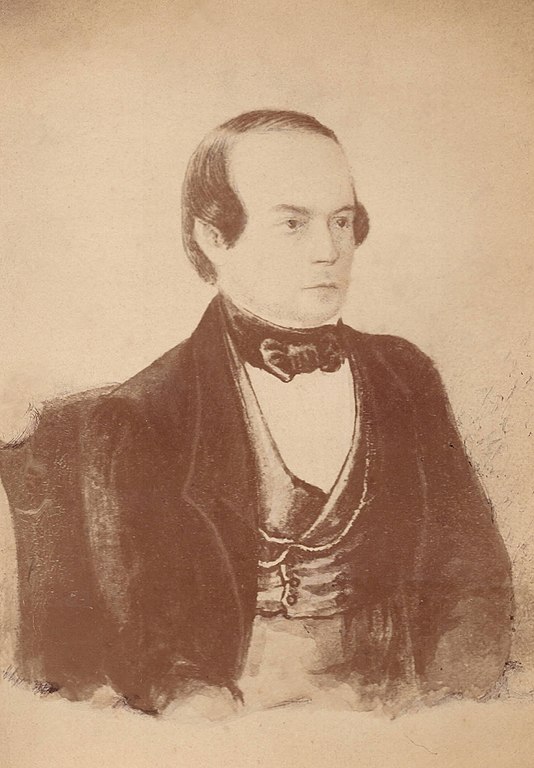 The great pianists of the Soviet era, such as Emil Gilels and Sviatoslav Richter, had to tour Russia performing on whatever piano was available and making the best of it – the luxury of the modern virtuoso who can demand Fazioli or bust was a phenomenon unknown to these towering artists. And so, when Dinara Klinton appeared at the Pushkin House instrument to play three Prokofiev piano sonatas on the anniversary of the composer's death, there were several traditions on show.
The most significant, however, was that represented by Klinton herself. Since I first heard her at the Royal College of Music quite some years ago, this impressive young artist – Ukrainian born, trained in Russia and the UK, and laureate of several big competitions – has been unfurling her pianistic wings in a very particular direction: that of an old-school Russian style that makes her utterly at home in the great sonatas of Prokofiev. Her technical mastery is not merely powerful, but allows her to play these challenging works as if it's the most natural thing in the world. She began with the early but highly flavoured one-movement No 1, written while the composer was still a teenager, then moved on to No 9, his final piano offering, premiered by Richter only in 1951; although qualifying as Prokofiev's "new simplicity", it is in a more elusive language than the three big "war sonatas", as if the beleaguered composer is struggling to keep his individuality alive. Klinton made its cyclic twists and turns into an assured, well delineated narrative.
The Sonata No 6, however, is the first of the war sonatas, arguably the best of the lot and almost more symphonic at times than Prokofiev's symphonies. The range of textures and expression from the spiky, sardonic opening to the soaring lyricism of the slow movement, the multiplicity of voicing, the claustrophobic and yearning atmospheres, all these seem to demand a giant hall and 80-piece orchestra. For Klinton, it seemed a piece of cake. Do try and hear this.
The Pushkin House Festival continues until mid-March and future events include a concert of Arensky songs (9 March), one by the Orpheus Sinfonia (13 March) and a Kapustin evening (14 March, with an introductory talk the day before). A festival pass costs £97 and each event is individually bookable for a minimum of £5, though you're encouraged to pay more if you can.
The festival focuses on much that is unexpected and occasionally revelatory
rating
Explore topics
Share this article