Stephen Kovacevich, Wigmore Hall review - a sublime birthday treat |

reviews, news & interviews
Stephen Kovacevich, Wigmore Hall review - a sublime birthday treat
Stephen Kovacevich, Wigmore Hall review - a sublime birthday treat
The great American pianist celebrates his 80th at a favourite venue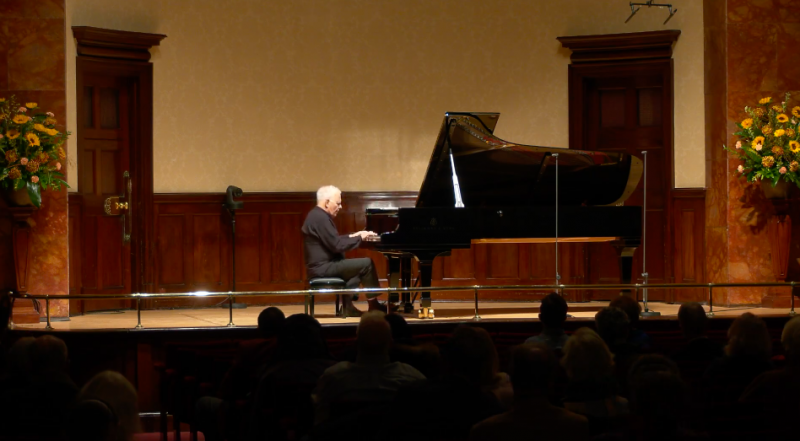 Kovacevich: a sound free from the pull of gravity
What do you want to do on your 80th birthday? Well, playing two of your favourite pieces of music at the Wigmore Hall is not a bad option. To celebrate his big day, Stephen Kovacevich returned to the scene of many of his triumphs since 1961, chose the Bach Partita No.
4 and
Schubert
's final piano sonata, D960 in B flat major, and enjoyed a rapturous welcome from a distanced audience overjoyed to be sharing the occasion with him.
Kovacevich has always been a one-off: a free spirit with attitude yet no aggression, and a giant heart without a vestige of sentimentality. He builds music in long, long lines, seamlessly connecting paragraphs in a manner that would bear comparison to Proust, if that weren't an idea he'd probably skewer at once for pretentiousness. Seated, as always, very low at the piano – lower than any pianist I've seen other than Glenn Gould – he allows his forearms to slope up towards the keyboard and the resulting tone seems floating and transparent, as if free from the pull of gravity. (Like Gould, too, he has a slightly disconcerting, though forgivable, predilection for singing along.)
This silk-spun connectedness paid ample dividends in the Bach, which contains one of the composer's most inspired Allemandes – an extended meditation with a florid melodic thread and dappled-shade harmonies that make it a close cousin to Variation 13 of the Goldbergs. Here Kovacevich's consistency and quiet awareness of the music's twists and turns, poetry and logic, reached the sublime. His feel for stylistic, inventive embellishments was inspired in the Courante, matching its built-in flourishes; the Gigue had a satisfyingly headlong vigour; and the whole was delivered with the minimum of pedal, if any. Schubert's last sonata was written just a couple of months before the composer's death, aged 31. It is full of ambiguity, switching between intimacy and dread in the blink of a semiquaver; it poses questions, only to leave them hanging unanswerable in the void. The beauty of life and the fear of death become one, the soul exposed and defenceless.
It's almost impossible to grasp how someone that young could encapsulate a truth of the human condition so perfectly (and no, Schubert didn't know he was going to die so soon – he perished not of the syphilis that plagued him, but another infection, probably typhoid fever). This is the perfect piece for today, unfortunately: God alone knows what's waiting for us at the bottom of the cliff, yet while we're in slow-motion free fall, the view is marvellous. Kovacevich's translucent tone and magical phrasing fulfilled dreams of how this sonata can sound, while simultaneously making us hear it in new ways: for instance, the insistent bass-line in the last part of the slow movement seemed here as threatening as the shuddering bass trill in the sonata's opening phrase. And again: no sentimentality, just wisdom, honesty and compassion.
It's odd, meanwhile, that normally when you're trying to keep people healthy, you encourage them to stay warm, but Covid-19 prevention seems determined to chill our very bone marrow. The newly octogenarian pianist gently explained after the Bach that his hands were absolutely freezing and he had to take a break to try and warm them up before the Schubert. You wouldn't have guessed this from his playing. Still, couldn't they have lent him a portable heater for the platform? BBC Radio 3's announcer Tom Service filled in heroically in Kovacevich's absence, encouraging those listening or viewing at home to use the pause to make a donation to the hall. I will second his words. Go on. You know you want to.
Kovacevich's translucent tone and magical phrasing fulfilled dreams of how Schubert can sound
rating
Explore topics
Share this article