Belfast review - coming of age amid the terror of the Troubles |

reviews, news & interviews
Belfast review - coming of age amid the terror of the Troubles
Belfast review - coming of age amid the terror of the Troubles
Kenneth Branagh's emotional journey back to his childhood roots
Tuesday, 01 February 2022
Escaping to the movies: Caitriona Balfe, Jamie Dornan, Judi Dench and Jude Hill
For all his achievements as actor and director, Kenneth Branagh isn't immediately thought of as a screenwriter, despite his multiple Shakespeare adaptations. That may all change with Belfast, because Branagh's deeply personal account (he's both writer and director) of a Northern Irish childhood in the early days of the Troubles has a little touch of magic about it.
It's based on Branagh's own personal history, which he projects through the character of nine-year-old Buddy (Jude Hill, pictured below, inhabiting the role like a natural). He's the son of Protestant parents (identified only as Ma and Pa) living in a working-class district in north Belfast, where Catholics and Protestants have hitherto been living amicably alongside each other. We arrive there in the summer of 1969 via a full-colour opening sequence of contemporary Belfast, framed through the city's giant yellow Harland & Wolff dockyard cranes, whereupon the narrative spins back in time and dissolves into black-and-white. Though not any old black-and-white.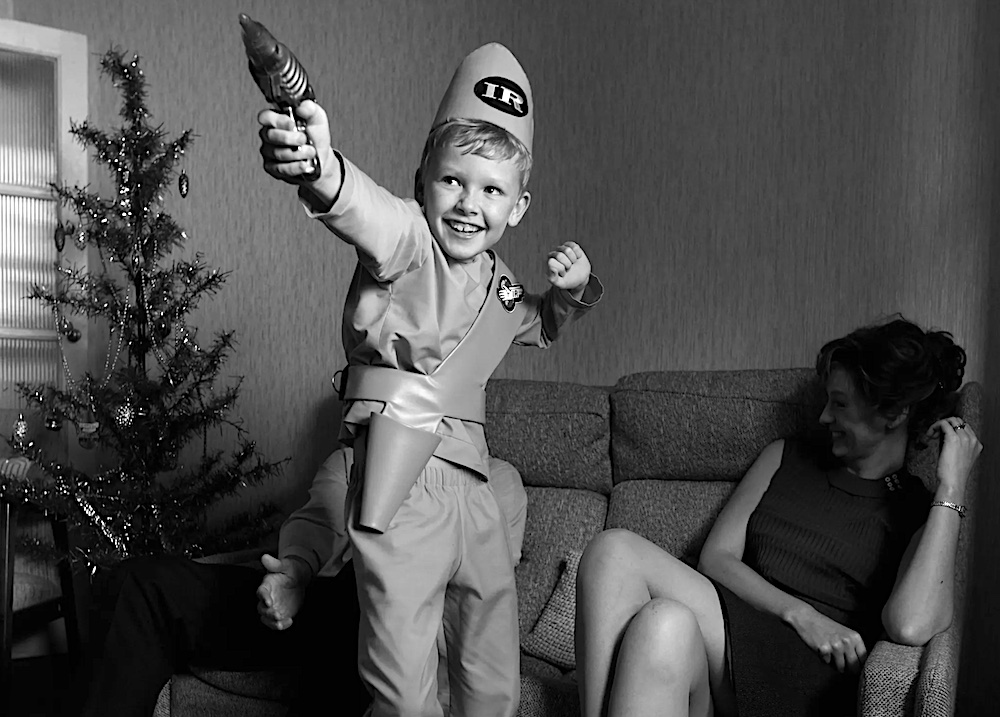 "We use a kind of liquidy, silky, velvety black-and-white," Branagh has explained. "I would call it a Hollywood black-and-white, a way in which Buddy, our 9-year-old, saw the world rather glamorously." It's also a way for Branagh to inject, via Buddy's fondness for watching classics like High Noon or Shane, his own fascination with Hollywood history and vintage Westerns. The film's progress is tracked by nostalgically comforting cinematic images as Buddy and family go to the pictures to see period pieces – in colour – like Chitty Chitty Bang Bang or a risqué Raquel Welch in One Million Years BC. Aptly, the soundtrack is peppered with songs by Van Morrison, the Belfast Cowboy himself, including a newly-recorded version of 1970's "Down to Joy" alongside "Warm Love", "Bright Side of the Road" and other delights.
Branagh's feat has been to balance his story of a child gradually becoming aware of the world, and all his wonderment at such phenomena as Star Trek, the Apollo moon landing and the pigtailed schoolgirl for whom he finds himself pining, against the gathering storm of sectarian violence which is about to engulf Northern Ireland. The family's rough but warm-hearted community, the kind of place where people didn't lock their front doors and would stop for a chat in the street, is suddenly blown apart by a savage explosion of rioting, as Loyalist hardliners smash up Catholic property and set up their own barricades.
Next thing you know, the British Army is rolling down the street with its armoured cars while helicopters buzz overhead, and life as the locals knew it has suddenly come to an end. This isn't a no-holds-barred documentary about sectarian savagery, even if that's apparently what some critics wanted it to be, but it still delivers a jolt of realisation of the horrors visited upon Irish communities.
Buddy's puzzlement about religious separatism is illustrated when he sees that fire-and-brimstone ranting isn't exclusive to Catholic clerics, and by a droll conversation about how to answer if you're challenged about which doctrine you adhere to. Mostly, though, Branagh seeks to accentuate the positive about the collective decency he grew up amongst. He's well served by a cracking mostly-Irish cast, not least a strong and sympathetic Jamie Dornan – who's suddenly looking like an actor wielding some serious clout – as Pa and a luminous Caitriona Balfe as his wife. Upstream from them in the family lineage are Judi Dench as Granny and Ciarán Hinds as Pop, with Hinds especially enjoyable with his kind, laconic wisdom and homespun yarns. Colin Morgan is chillingly threatening as Loyalist hard-nut Billy Clanton (any reference to Gunfight at the OK Corral is obviously entirely deliberate), though the way Pa takes him on in a street showdown is possibly a mite over-romanticised.
In the end, Branagh leaves you lamenting the sorrow and the pity of this terrible civil war, as Pa, who has frequently been away working in England, ultimately concludes that he must move his family away with him. "Go now – don't look back," urges a tearful Granny. Viewers may also find themselves dabbing at a moistened eye.