Pin Cushion review - a twisted fable of daydreams and bullies |

reviews, news & interviews
Pin Cushion review - a twisted fable of daydreams and bullies
Pin Cushion review - a twisted fable of daydreams and bullies
Childlike fantasies and quirky visuals mask a dark heart in creative Brit flick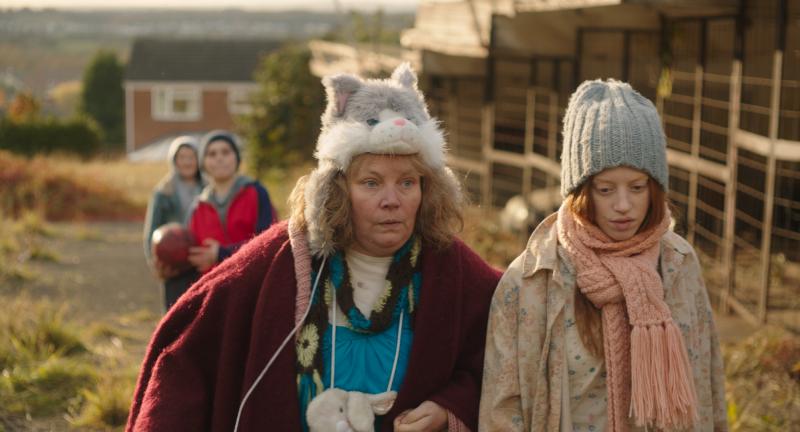 Lyn (Joanna Scanlan) and Iona (Lily Newmark) are two isolated, kindhearted oddballs
On the surface, Pin Cushion is a whimsical British indie, packed with imagination and charm. But debuting director Deborah Haywood builds this on a foundation of bullying and prejudice, creating a surprisingly bleak yet effective film.
Teenager Iona and her mother Lyn (Lily Newmark and Joanna Scanlan, main picture) are a pair of social outcasts, recently moved to Swadlincote in Derbyshire. They're constantly festooned in bright woolly layers and surrounded by ornamental tat and misplaced furniture (including a toilet at the head of their shared double bed). Iona boasts about her new school friends, while Lyn speaks of barn dancing and dating. The problem is they're both fantasists, lying about their non-existent social lives and slipping deeper into depression.
Iona spends much of her time daydreaming, deep in fantasies where Nadine Coyle is her flight attendant mother. As with Iona, their charming, quirky nature lulls us into a false sense of security, only to be violently torn out by her miserable reality. Her so-called friends trick her into compromising and humiliating situations, sometimes through excruciating extended sequences. It's jarring to watch, at times deeply uncomfortable, but a creative approach to what could be a deeply disheartening subject.
Joanna Scanlan and Lily Newmark are wonderfully cast as mother and daughter, forming a charming double act calling themselves "Dafty 1" and "Dafty 2". Their journey from inseparability to barely talking is poignantly familiar to anyone who went through the rebellious teenager phase, desperately trying to fit in by sacrificing your identity. The script gives both actors the freedom to explore their relationship through performance, something they both excel in.
It's a very promising debut from Deborah Haywood. There's a confidence and imagination to her filmmaking, striking a tone similar to Richard Ayoade and Paul King. Her storytelling is deft, with a surprisingly dim view on most people. This is a film made by the bullied, and it's not a triumphant, feel-good tale – cathartic perhaps, but life is never so clean as to provide a happy ending. Despite the film's wonky soundtrack and bright colours, .
Its portrayal of disability is somewhat problematic – Lyn has a hunchback and is mercilessly mocked throughout the film. She is a good-natured and loving person, but her life is pitiful and her revenge is hardly uplifting. Perhaps true to some people's experiences, but a macabre representation all the same.
However, it's still a film with real heart and an abundance of talent. The majority of the cast and crew are female (still a regrettably rare case), and they bring a truly unique take on Britain's dark underbelly; just don't expect an easy ride, it's a prickly as the titular cushion.
This a dark and twisted fairytale: a modern Brothers Grimm
rating
Explore topics
Share this article