Cold War review - a gorgeous and mesmerising romance
Cold War review - a gorgeous and mesmerising romance
Pawel Pawlikowski honours the spirit of his parents' turbulent romance
Wednesday, 29 August 2018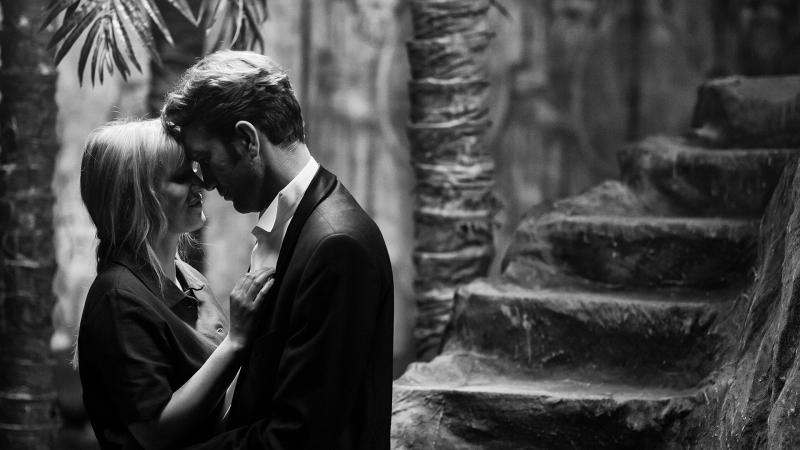 Tomasz Kot and Joanna Kulig play fiery lovers Wiktor and Zula
Can we ever really know the passion that brought our parents together? By the time we are old enough to hear the story of how they first met, that lovers' narrative has frayed in the telling and faded in the daily light of domestic familiarity.
But what if we could be transported back in time to when that
romance
was at its peak?
Cold War
is Pawel Pawlikowski's first film since winning the Oscar for
Ida
in 2015. It's a long-nurtured
drama
inspired by his parents' own volatile relationship which saw them leaving Poland, leaving each other, marrying other people only to leave them in their turn and get back together. The film is not pure memoir - Pawlikowski's father was a doctor not a musician and his dancer mother becomes a singer on screen - but it's true to the spirit of their stormy romance.
It's 1949 and Wiktor (Tomasz Kot) is a musical director in his thirties who has been despatched to the remote corners of wintry Poland to record local performers. His brief is to assemble a touring troupe of folk singers acceptable to Party officials. Tricked out in winsome peasant costumes, the troupe will perform traditional Polish ballads and new paeans to socialist values. Among the bagpipe players and keening old ladies who come to audition, Zula (Joanna Kulig) stands out. She's barely 17 but her fiery determination to get on has already led her to stab her father when he made a pass at her. Soon, she and Wiktor have embarked on a passionate but stormy affair that will see them travelling around Poland and onto Germany and Yugoslavia.
Pared down to 89 minutes, Cold War follows not just the lovers as they cross paths over 15 years but also portrays the icy control that Moscow in its heyday exerted throughout the Soviet Union. Party officials and apparatchiks pull the strings and while Zula is no Eliza Doolittle, she becomes a propaganda-singing doll. There are compromises and betrayals, reinventions and recriminations on a grand scale; these two can't live with each other but can't live apart either. Wiktor sees a chance to break free from churning out Stalinist kitsch and slips through the Iron Curtain. Once in Paris, he is drawn into jazz clubs and composes music for a nouvelle vague film director.
Pawlikowski and the late screenwriter Janusz Głowacki don't always make it easy to keep up with the story. It's refreshing to see a period film that trusts the audience's ability to work out what's happening without history being spelled out in crude signposts. The script jumps ahead in time and on to new locations. Cold War jettisons characters with no warning - the excellent Agata Kulesza, brilliant as the acerbic Stalinist aunt in Ida, disappears too soon from the film. Key characters and love rivals are thrown into the narrative without introduction - a charismatic French film director played by real-life director Cédric Kahn, Jeanne Balabar as a Parisian poet inspiring Zula to jealous rage. Much use is made of ellipses in the editing by Jaroslav Kaminski and sometimes one feels as if a vital scene or two has been left on the cutting-room floor. There's perhaps too much of the lovers' fighting and not enough of the creative intimacy that brought them together. And while Joanna Kulig burns up the screen as Zula, it's harder to see what she finds so irresistible in the more cipher-like Wiktor as played by Tomasz Kot.
Cold War is punctuated throughout with breaks where the screen goes black and we are left in the dark, listening to the audio track alone - be it music or sound effects - signalling a new chapter. Pawlikowski sticks with the classic 4:3 Academy ratio which served him so well in Ida, and again uses incandescent monochrome to capture the past. Lukasż Zal's superb cinematography means that all one wants is to steal a print of the film, cut out every frame and blow up each image to perform a forensic examination of its beauty. But that would be to lose Pawlikowksi's intricate sound design, the energy of the performances and the kaleidoscope of music (Chopin, Bach, bebop and Bill Haley all have their moment). When the film came to an end, all I wanted was to watch it all over again; Cold War is the first really great film of 2018.
Lukasż Zal's superb cinematography means that all one wants is to steal a print of the film
rating
Explore topics
Share this article