Three Identical Strangers review - an extraordinary true story |

reviews, news & interviews
Three Identical Strangers review - an extraordinary true story
Three Identical Strangers review - an extraordinary true story
Award-winning documentary that turns from light to shade
Thursday, 29 November 2018
Like peas in a pod...the triplets at the height of their fame
The privileges of writing reviews are very few (it's certainly no way to make a living these days) but one that remains is the possibility of seeing a film before reading about it. Sometimes it doesn't matter knowing in advance how a story will play out. It's probably a good idea to let audiences know that they won't get child-rearing tips from Rosemary's Baby.
But with
Three Identical Strangers,
a lot of its pleasure is in its narrative
twists
. To write about it critically is to risk dissipating the intricately paced revelations that make Tim Wardle's
documentary
work so well. My advice would be to watch it first and read about it later; the
spoiler alert
siren is now switched on.
Who isn't fascinated by twins? Accompanying a young pair of my acquaintance is an exhausting business; people constantly stop them in the street to ask if they're identical even though it's blindingly obvious. It just seems to be a compulsion that we can't resist. Identical twins are the stuff of fairy stories and myth; they arouse existential anxiety about our own uniqueness as well as speculation about how our lives would have turned out if we'd lived somewhere else.
Three Identical Strangers taps into those themes as it unravels the story of triplets who were put up for adoption in New York state in 1961. Each baby boy went to a different family, none of the adoptive parents knew that their child had identical siblings. Eighteen years later two of them met by chance when they found they'd chosen the same community college. The instant media coverage of the reunited boys attracted the attention of the third triplet, and soon all three were together, doing the circuit of TV shows and becoming celebrities. What's not to love about three handsome young men who were clearly delighted with finding each other and happy to dress up in matching outfits? How much fun was it finding out that they had the same taste in cigarettes and girls? For a while their life was one long party, including appearances in Desperately Seeking Susan (pictured below) and running their own Manhattan restaurant.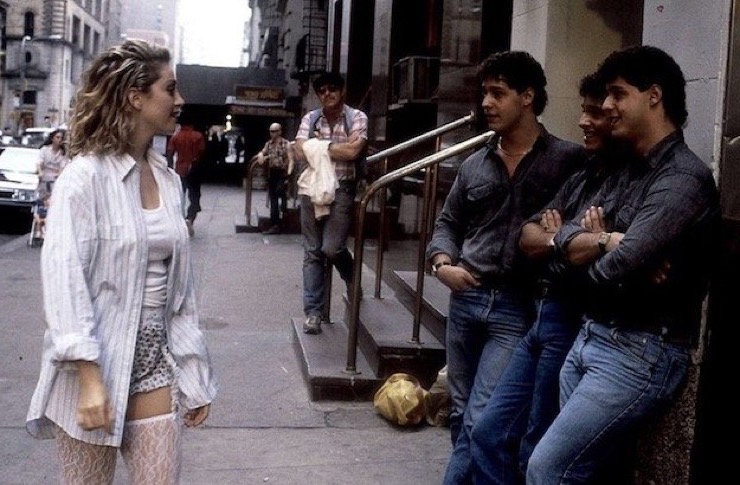 But after this happy start to the documentary, questions begin to work their way in. Why were they separated at six months in the first place and why were they placed with families with very different economic backgrounds? Who exactly was directing the researchers who appeared throughout their childhoods to run psychological tests and physical assessments? Gradually the film's tone darkens as it's revealed that the triplets were just one set of multiple-birth babies separated and put up for adoption. They were the subjects of a Yale university experiment designed to prove theories about nature vs. nurture which dominated psychoanalytic debate.
It's well known that the ethical standards of research were very different in mid-century America - one only has to explore Milgram and Project MKUltra to realise how unsupervised the playground of psychological experimentation was at the time. Three Identical Strangers makes much of the secrecy that still protects these twin studies and the motivation of those who funded and conducted them. It's obvious that much emotional damage was done to the children and their families who took part without consent and that the fallout continues. We are left with a sense that there is more to be revealed about the study, and that while it might have some value in understanding human development, it caused profound harm.
It's to director Wardle's credit that he is sensitive to the vulnerabilities of those involved. This is no exploitative freak show. There are family members mentioned who are not interviewed, which may be frustrating but is presumably done to protect their privacy and respect their feelings. The interviews with the key players are plainly shot and allowed to breathe so that we get to know them without being rushed; the filmmakers are blessed with a wealth of archival footage to illustrate their narrative. When there's no archive to provide visuals for an interviewee's memory, Wardle shoots reconstructions that have earned some baffling criticism. Would critics really prefer a blank screen or some kind of animation to cover the necessary cuts in a lengthy anecdote? Sometimes the recon is a little cheesy (sinister figures shot in grainy black and white) but it's mainly tasteful and kept to a minimum.
More problematic than the reconstructions is the use of journalist Lawrence Wright (who first explored the story in The New Yorker magazine in 1995). Wright is cast here as a detective figure, listening to tapes and rummaging through his boxes of notes. There's also some slightly forced filming of phone calls one triplet makes in his quest for answers. A couple of clunky recaps of the story-so-far are puzzlingly left in, repetitive glitches in an otherwise well-edited documentary. But these are minor criticisms, mostly one comes away from Three Identical Strangers with the sense of an extraordinary tale expertly told and with some intriguing questions left unanswered.
It's to Wardle's credit that he is sensitive to the vulnerabilities of those involved
rating
Explore topics
Share this article