Romeo & Juliet, Shakespeare's Globe review - unsatisfactory mix of clumsy and edgy |

reviews, news & interviews
Romeo & Juliet, Shakespeare's Globe review - unsatisfactory mix of clumsy and edgy
Romeo & Juliet, Shakespeare's Globe review - unsatisfactory mix of clumsy and edgy
Too many of the messages seem reductive and irrelevant
Rebekah Murrell plays a gutsy Juliet
"It is dangerous for women to go outside alone," blares the electronic sign above the stage of the new Romeo and Juliet at Shakespeare's Globe. This disquieting sentiment obviously takes some of its resonance from the Sarah Everard case, yet it also begs such questions as, really, always? When popping out to get milk? Does the time of day or the neighbourhood make any difference?
And how should a modern woman interpret this; by staying in, or, like the production's
gutsy Juliet
, Rebekah Murrell, investing in kick-boxing lessons?
Ola Ince's abrasively modern interpretation, complete with guns and overtones of street gang culture, is a strange mix. On the positive side she has coaxed performances from the cast that are as dynamic as they are edgy, frequently revealing fascinating new meanings from Shakespeare's words. On the negative side, she has decided that his language is not enough, hence the signboard above the stage which pronounces on everything from the decline in youth clubs to suicide rates.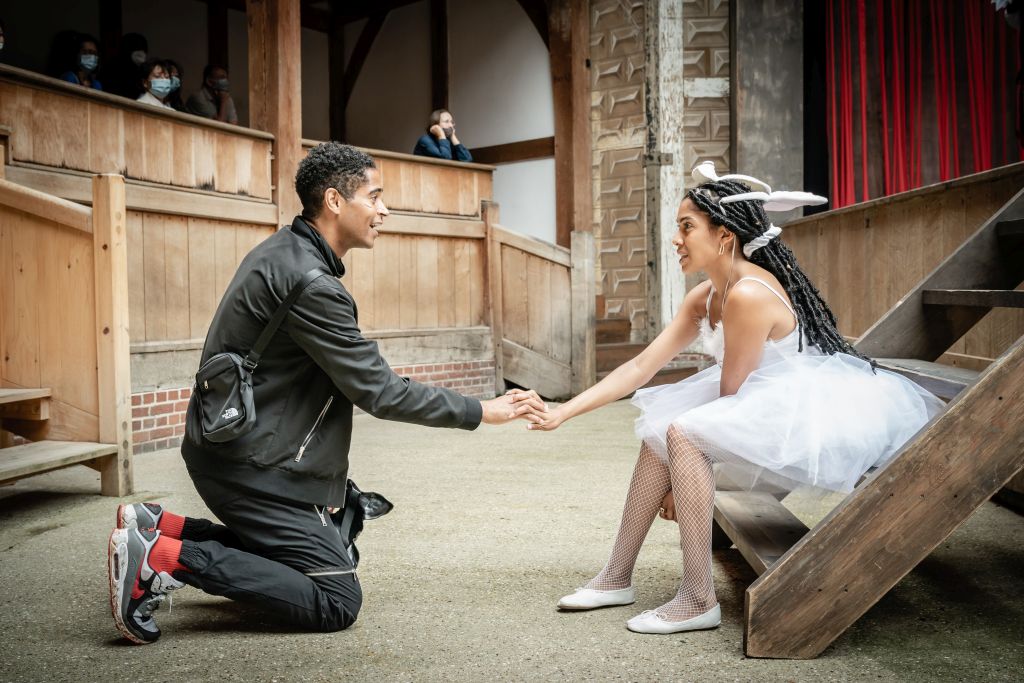 Like most if not all people in attendance, I am fully invested in a lot of the messages she wants to get across. I raged about the death of Sarah Everard and attended a vigil for her, I have written about and donated to charities to help teenagers avoid a life of crime, and like so many of us – especially over the last two years – I have lost friends to suicide. Yet this didn't stop the device of the electric signboard feeling forced and clumsy. Not least because it demonstrated a lack of faith in what a gifted cast might already extract from the script.
Surely, Shakespeare's enduring appeal is his ability to dissect emotions and agendas with such agility that each time you encounter them you can interpret your own experiences in a new light. Part of the joy, even in his tragedies, is the way he celebrates the sheer maddening complexity of humanity, whether he's talking about violence, power, attraction or love.
So many of the signs, by contrast, seem reductive and, at worst, irrelevant. Take another one – "Love is a matter of life or death for young people who don't have a secure attachment to a guardian." Again, I feel invested in this message; I fostered a baby born addicted to class-A drugs and attended classes for more than a year in order to understand the importance of attachment. It's crucial. But why is the sign here? Juliet's biological parents may be distant, but her nurse (wonderfully played by Sirine Saba) has clearly been emotionally invested in her from the word go. Beyond this, surely for both Romeo and Juliet the crux of their predicament is that ultimately they are far too strongly attached to their families.
If the aim is to be hard-hitting and relevant in a way that helps those teenagers who may see the performance, why has the issue of Covid been ignored? The production turns the ball where Romeo and Juliet meet into a clubbing scene – which is effective and has both funny and touching moments. But if you're happy to feature rap lyrics and the exchange of mobile numbers, why not allude to the fact that we're living in a time where the pandemic has made it forbidden for teenagers to party or to be intimate with each other and that this has had a major impact on adolescent mental health? Sure, many have broken the rules, but would it be that hard to incorporate just a couple of visual references to the fact that it's controversial to touch anyone, regardless of their families?
It's not the job of a critic to suggest what a director should do – not least an award-winning director like Ince – but this is just another indication of the frustratingly incomplete logic on display here, which is compounded by the positive aspects on view. Not least among those are Alfred Enoch's engaging streetwise Romeo and Murrell's pragmatic and self-possessed Juliet. The two (pictured above) look like any pair of kids you might see on a London street, and the chemistry between them is easy and credible.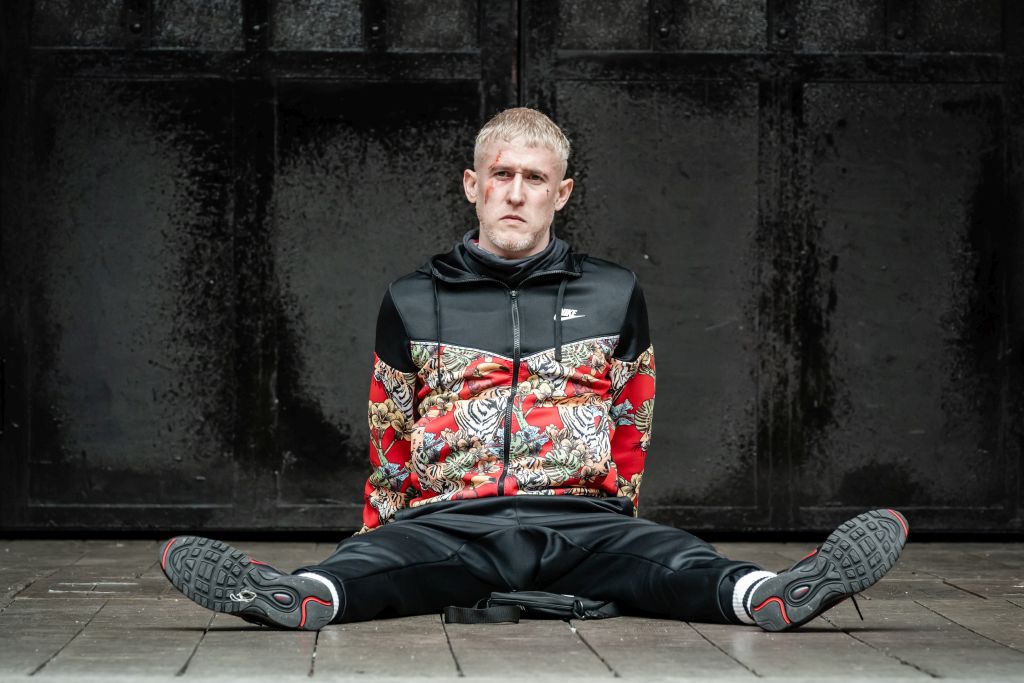 Ince has coaxed fantastically clear enunciation from the cast members, as well, which is no small feat in such an acoustically tricky space. This pays off particularly well when it comes to Saba's nurse who, with her dark plait and glasses, looks more the trendy cousin but even so conveys a level of empathy that is extraordinarily moving. The scene where she thinks she has discovered Juliet dead is one of the most devastating I have seen. Silas Carson's Capulet reveals an unusual combination of vulnerability and hard-headedness. When he expresses his view that Juliet is too young to be married off (here the script has been adjusted so that she's 16) you perceive a distress on his part that even successful marriages are a tragedy for girls with other things to live for. (The supporting cast also includes Adam Gillen, Mozart in the National's recent Amadeus and pictured above, as a hectoring Mercutio.)
This is a reasonably fast-paced evening – one hour fifty straight through – so not bad for YouTube-honed attention spans. And if just one teenager feels they can ask for help as a result of the signs, then the production will have achieved something good. Yet how much more might be achieved by letting the teenagers get immersed in the story without signposting what they might or might not be worrying about when they do so? Shakespeare lasts because he is able to distil the hopes and worries of people in all kinds of situations against infinite political and social backdrops. If he could be trusted to do so here, the evening would gain as much punch as Juliet does from those kick-boxing lessons.
Part of Shakespeare's joy is the way he celebrates the sheer maddening complexity of humanity
rating
Share this article