The Time Traveller's Wife, Apollo Theatre review - blockbuster 2003 novel does not quite land as blockbuster 2023 musical |

reviews, news & interviews
The Time Traveller's Wife, Apollo Theatre review - blockbuster 2003 novel does not quite land as blockbuster 2023 musical
The Time Traveller's Wife, Apollo Theatre review - blockbuster 2003 novel does not quite land as blockbuster 2023 musical
Powerhouse performances and visual effects let down by unambitious book and lacklustre songs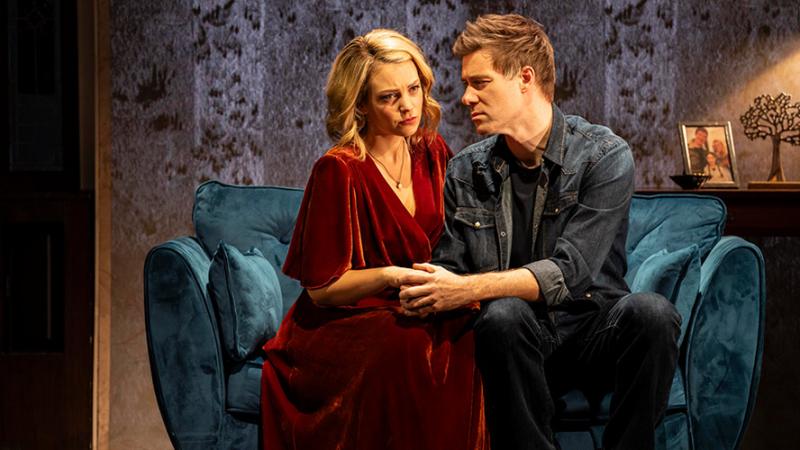 David Hunter and Joanna Woodward in The Time Traveller's Wife - fancy meeting you in a time like this
You really don't want to pick up The Time Traveller's Wife in a game of charades. Half the clock would be run down just showing that it's a novel, a film, a TV series and a musical.
That spawning of spin-offs over the last two decades is a testament to the appeal of Audrey Niffenegger's characters and story, but their relatively lukewarm critical and popular receptions speaks to the difficulty of going from page to screen. Is it any more successful travelling from page to stage?
For anyone who has not seen any of those previous adaptations, the plot is tricky to follow, despite a carefully constructed book by multi award-winning Lauren Gunderson. Clare (usefully made the protagonist in this version) is astonished to meet Henry in a library, but he does not know her. Soon she is telling him all about the visits he has paid to her since she was a kid (creepier now than it was in 2003 when the novel was published, but handled as sensitively as it could be by director, Bill Buckhurst).
They hook up and soon she is flinging a bouquet into the house and justifying the title of the show, but he is still the involuntary time traveller he always was, glitching as he evaporates at inopportune moments. She waits, as sailors' wives did and do and tries to manage her life connected to a half-present husband, re-appearing as randomly as he disappears. There's a metaphor here for the allocation of labour and leisure in marriages, but, rather like other weighty themes that hove into sight as time, er, passes, it's rather glossed over in favour of the somewhat clichéd romcom energy that drives the show.
Inevitably, a forensic examination of the plotting throws up the inconsistencies that time-travel, however seductive a device it seems, always introduces, rather diluting a key moment in Act Two. Nevertheless, that revelation does give Joanna Woodward an eleven o'clock number "I'm in Control" to showcase her wonderful singing voice, which, allied to a relentless optimistic likeability as Clare, makes her the best thing about the show.
She maintains a fine chemistry with David Hunter's Henry (pictured above) who channels a little of Hugh Grant's slightly squinting confused charm, as he lands back in another time and another place with only a hazy idea of what's happening (except when he needs to know, and then he mysteriously does). He sings well too, indeed the vocals are consistently strong through the whole cast, with Tim Mahendran and Hiba Elchikhe easily holding their own as well as providing some much needed comic relief as bickering best friends, Gomez and Charisse.
The songs, by Dave Stewart and Joss Stone, whose megawattage stardom will sell plenty of tickets, never quite take off. Dipping into rock, pop, gospel and a few genres in-between, even the best ("Journeyman" and "Masterpiece") never really establish the presence a big musical number demands. You wouldn't turn them off if they popped up on drive radio, but you wouldn't pull over to make sure you didn't miss a word either. They seem to accompany the characters and plot rather than drive them, so fail that admittedly tough test, the holy grail of musical theatre composition.
It's no surprise to learn that the special effects that burst Henry back and forth through time are made by Chris Fisher, whose work on Back To The Future is still packing them in at the Adelphi Theatre. They're supplemented by some very impressive video work (with a nod to A-ha's iconic "Take On Me") from Andrzej Goulding, the visuals wisely supplementing rather than overpowering the more traditional elements of theatre.
I suspect the show will be received more warmly by fans of the book than fans of musicals. They will appreciate the way in which Clare has been moved to the centre of the tale, though she will still be too passive for some. The last scene will delight too - accompanied by audible sighing around me in the stalls, as it wallows in Niffenegger's bittersweet pathos. That said, those coming for the more specific attractions of musical theatre may feel a little shortchanged by the blandness of many of the songs and the skipping across plotholes in the book.
Nevertheless, the show engages its audience and, even if it does dodge some questions about agency and consequences and throws in an occasional MacGuffin (using knowledge from the future to win the lottery is suddenly fine?) it's an entertaining evening, animated more by the performances and visuals than the songs.
An entertaining evening, animated more by the performances and visuals than the songs
rating
Explore topics
Share this article