Capuçon, Philharmonia, Bancroft, RFH review - enjoyable all-American classics |

reviews, news & interviews
Capuçon, Philharmonia, Bancroft, RFH review - enjoyable all-American classics
Capuçon, Philharmonia, Bancroft, RFH review - enjoyable all-American classics
Meaty 20th century masterworks alongside a spry newcomer
Conductor Ryan Bancroft
The Philharmonia's current season, Let Freedom Ring, celebrates American music through some notably interesting programming. And although last night's concert was very conventionally structured, with an overture, concerto and big symphony to finish, it was also the chance to hear some repertoire only quite rarely presented.
Barber's Violin Concerto is a personal favourite, a bit of a guilty pleasure as it is undoubtedly Romantically indulgent, and old-fashioned even when it was written. But I'm surprised it's not heard more often – I'd take it over Bruch or Brahms or Elgar every time. Here Renaud Capuçon didn't stint on the passion, his tone intense and rich, but kept on his toes by Ryan Bancroft, who maintained a forward momentum throughout, most notably in pushing on to the end of the first movement without any Hollywood rallentando. Barber's orchestration is very good, coloured by the inclusion of a piano, and Bancroft, energetic and batonless, let the players enjoy the chamber textures.
The second movement started with an exquisite oboe solo by Timothy Rundle and Capuçon's playing was a succulent cantabile, but stayed on the right side of cheesy. The finale was a sprint for the line from the off, Capuçon's fingers flying and the orchestra matching him stride for stride.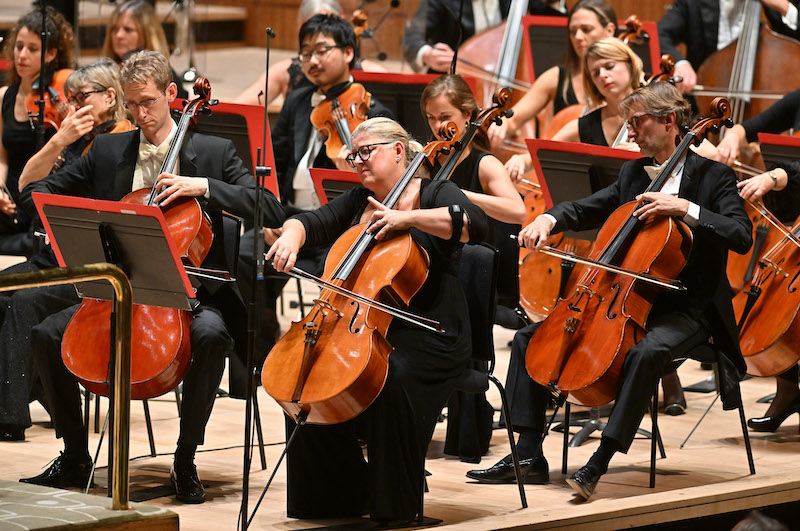 The evening had started with Caroline Shaw's Entr'acte, an expansion for string orchestra of her 2011 string quartet. It's perhaps my favourite of her pieces, elusive and arch, following rhythmic twists and turns with understated elegance. Karen Stephenson (pictured above by Mark Allan) held the audience rapt with her final strummed cello solo, with its folk guitar echoes. Bancroft's conducting was as light and airy as it would be weighty and forceful in the Copland.
Symphony no.3 is wartime Copland (written 1944-6) and in some ways recalls the recent Appalachian Spring, with less homespun corn, but also without the big tunes – until we get to the Fanfare for the Common Man in the last movement. There is a sternness and seriousness of purpose throughout, but I particularly enjoyed the angular and unpredictable second movement, which built to a barnstorming finish. The Fanfare, initially announced quite tentatively in the flutes, finally lets rip in the brass, who were magnificent, punctuated by bass drum and timpani. The ending is huge and dramatic, but is it triumphant – or triumphalist? Either way, it hit home.
Capuçon's playing was a succulent cantabile, but stayed on the right side of cheesy
rating
Explore topics
Share this article