Prom 27, Dinnerstein, National Youth Orchestra, Gourlay review - colour symphonies |

reviews, news & interviews
Prom 27, Dinnerstein, National Youth Orchestra, Gourlay review - colour symphonies
Prom 27, Dinnerstein, National Youth Orchestra, Gourlay review - colour symphonies
A luscious musical tour with the cream of young players
Sass and grace: Simone Dinnerstein
Danny Elfman – the punk rocker-turned-film composer behind Batman, Spider-Man, Edward Scissorhands and The Simpsons – reports that he felt sceptical when first approached to write for the National Youth Orchestra of Great Britain. Why? Simply because "they were a youth orchestra". As Homer himself might say, "D'oh!".
Ask where Elfman has been hiding these last many decades and the answer is "Hollywood". Tinseltown's soundscapes (and sound-stages) lie unmissably behind the work that – duly enlightened about the NYOGB's excellence – he went on to produce. Wunderkammer, named for the Romantic-era box-of-tricks or cabinet-of-curiosities but surely also a nod to the neo-Gothic mood that suffuses Elfman's cinema scores, opened the NYOGB's annual visit to the Proms last night. A packed and buzzing Royal Albert Hall, by the way, gave the lie to those doomsters who have just read yet another sentence of death over dwindling concert audiences.
Elfman's generous and witty showcase "for large orchestra" – gigantic, in the case of the 150-strong NYOGB – set the tone for an evening that lavishly foregrounded colour, texture and atmosphere. Three works (Wunderkammer, Gershwin's Rhapsody in Blue and Ravel's complete Daphnis and Chloe music from 1912) let this biggest of big bands display every deep shade on their rainbow palette. Fans of tight classical forms might have felt at sea. But a full house adored the wash and swirl of full-spectrum illustrative scenes that took us from the creepy ambience of Hollywood horror to Jazz Age New York and Ravel's imaginary pagan glade (with its sophisticated Parisian planting).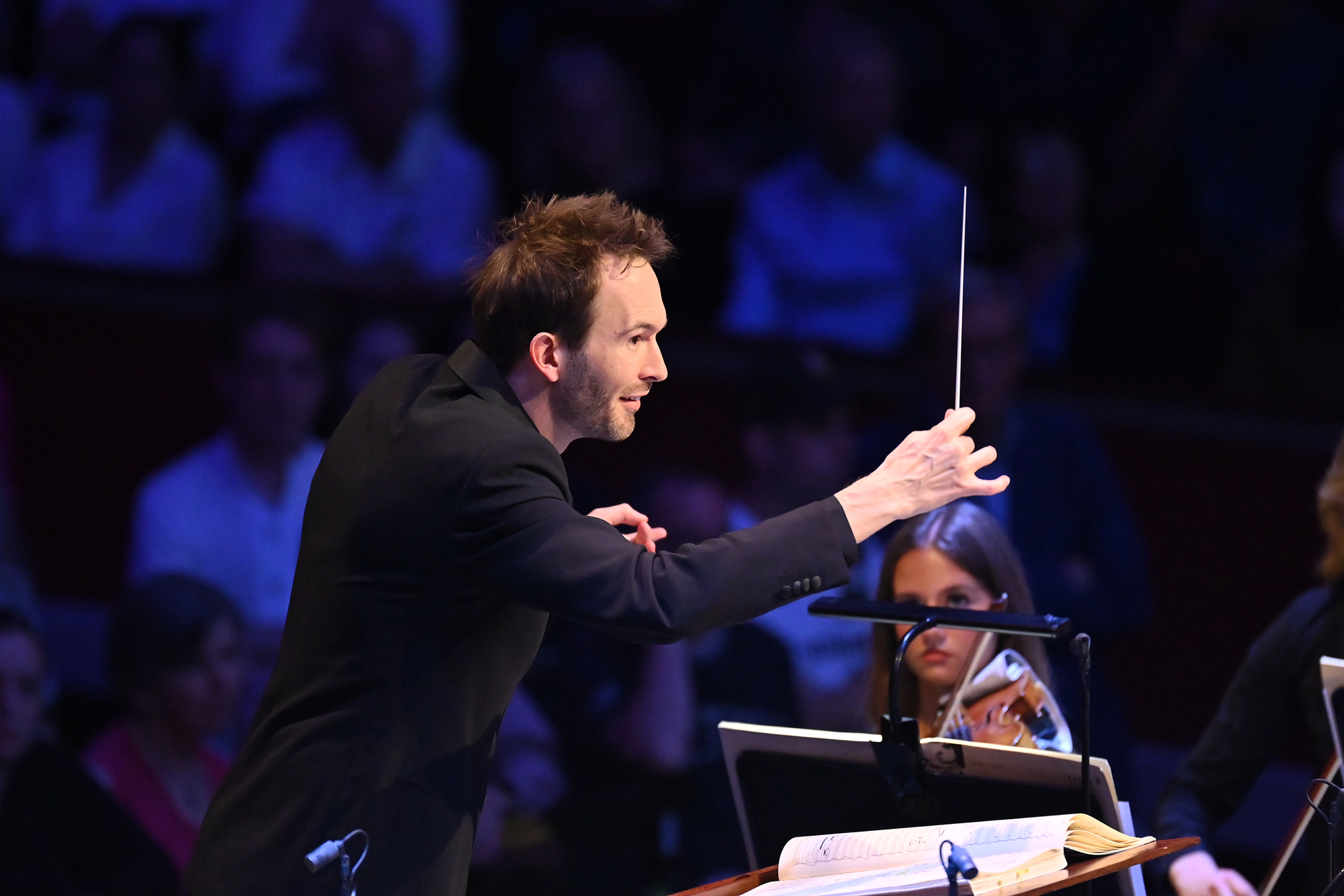 Andrew Gourlay (pictured above) conducted with a rewarding attention to the coherence and precision of his enormous ensemble as well as the thrilling virtuosity of its individual voices and sections. Except, that is, for the first-half encore, devised with the NYOGB's associate artist: jazz saxophonist-composer Trish Clowes. Here, percussionist Sophie Stevenson took over to lead a piece developed from improvisations on Gershwin's "The Man I Love". Pianist Simone Dinnerstein (soloist in Rhapsody in Blue) lay down phrases from the song that other instruments took up and evolved into exotic snatches of orchestral sound in distant parts of the musical forest: chaos theory intriguingly in action.
Although topped and tailed with dramatic tutti passages, Wunderkammer lived up to its name, as one door after another opened to reveal a striking nugget of loosely-connected musical material. Elfman (pictured below) made the most of his massed ranks, with the female players supplying an eerie vocalise line on top of their instrumental contributions, and bravura work from the formidable squadron of percussion. Like any spooky movie spell-binder, Elfman loves the celeste. That made its mark here, with glockensspiel, chimes, growling brass and pizzicato strings – and a battery of harps – adding to the almost-comic house-of-horror vibe. Elfman is such an adroit Hollywood magpie that it feels otiose to try to identify single influences, though when we ventured deep into danse macabre territory old Saint-Saëns really deserved a little shout. At the end you might have decided that (as Winston Churchill allegedly said of an unstructured dessert), "This pudding has no theme" – but both cooks and diners relished every cleverly-spiced mouthful.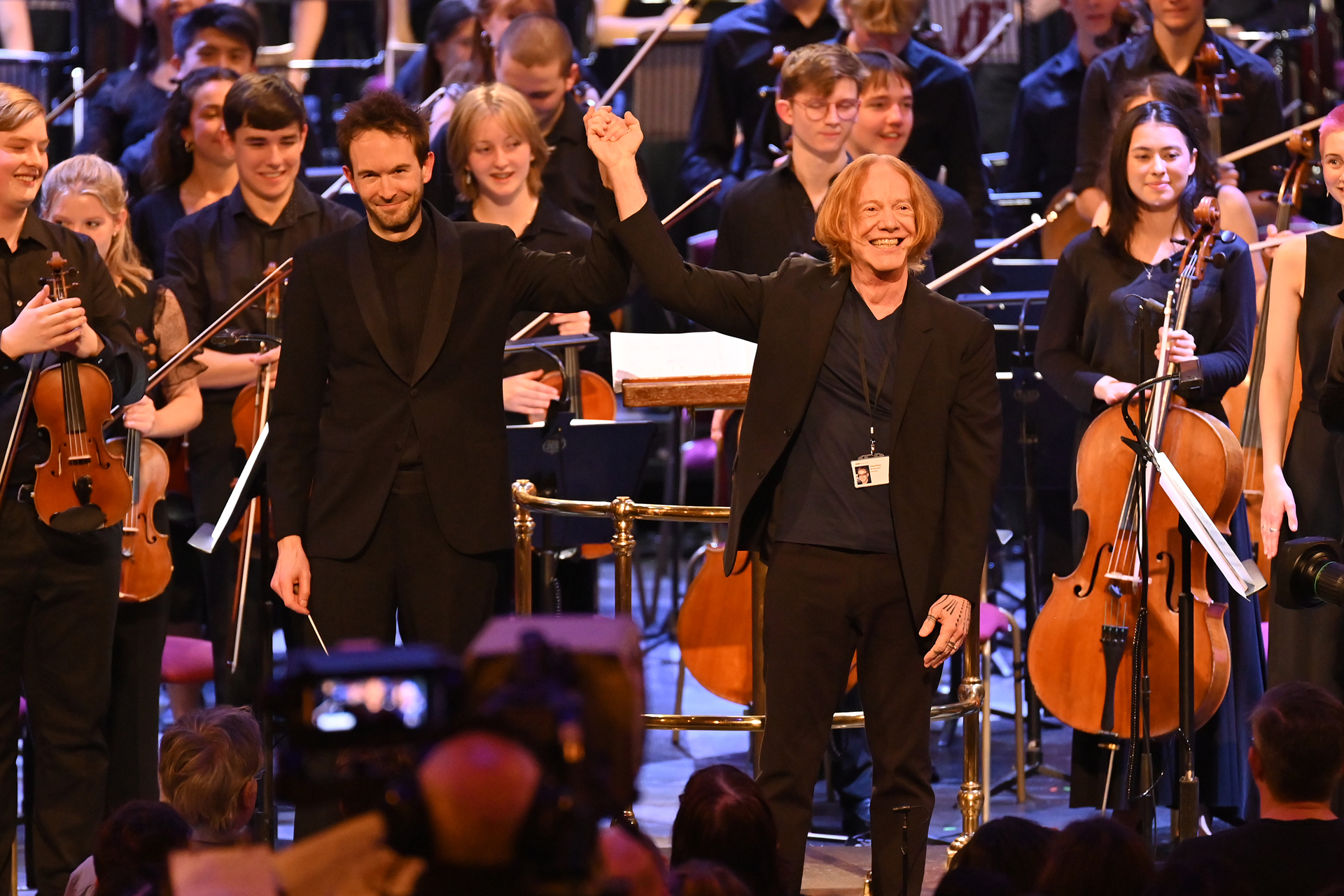 For Gershwin's much-revised Rhapsody, the NYOGB used Ferde Grofé's 1942 orchestration. This version moves the original compact dance-band scoring into full-blown symphonic territory. Rather than trying to disguise the resulting shift in scale and effect, Gourlay exulted in the lush, broad canvas in front of him. He drew ripe and expansive phrasing from his players, with a shameless swoon and gloss in the strings. Jazz purists might not have approved, but who was marking strict time? From the confident and idiomatic clarinet solo onwards (fedoras off to Raj Bhaumik), a spacious, bluesy ease contrasted with the passages of metronomic hustle that bring us back to the crowded streets of 1920s Manhattan. As soloist, Simone Dinnerstein knew when and how to take her time, lazily stretching phrases to find lyric calm amid the urban storm before bursting into sassy spells of up-tempo action. Her almost-dawdling grace reminded you not just that the romantic Russian masters lie behind this piece as well as the sounds of Black America, but that classic blues piano itself had its legato, rubato and meditative side – listen to the great Willie "the Lion" Smith, or even Jelly Roll Morton. The NYOGB were brash and urgent when required, though they gloriously smothered the final theme in the richest string-and-brass cream.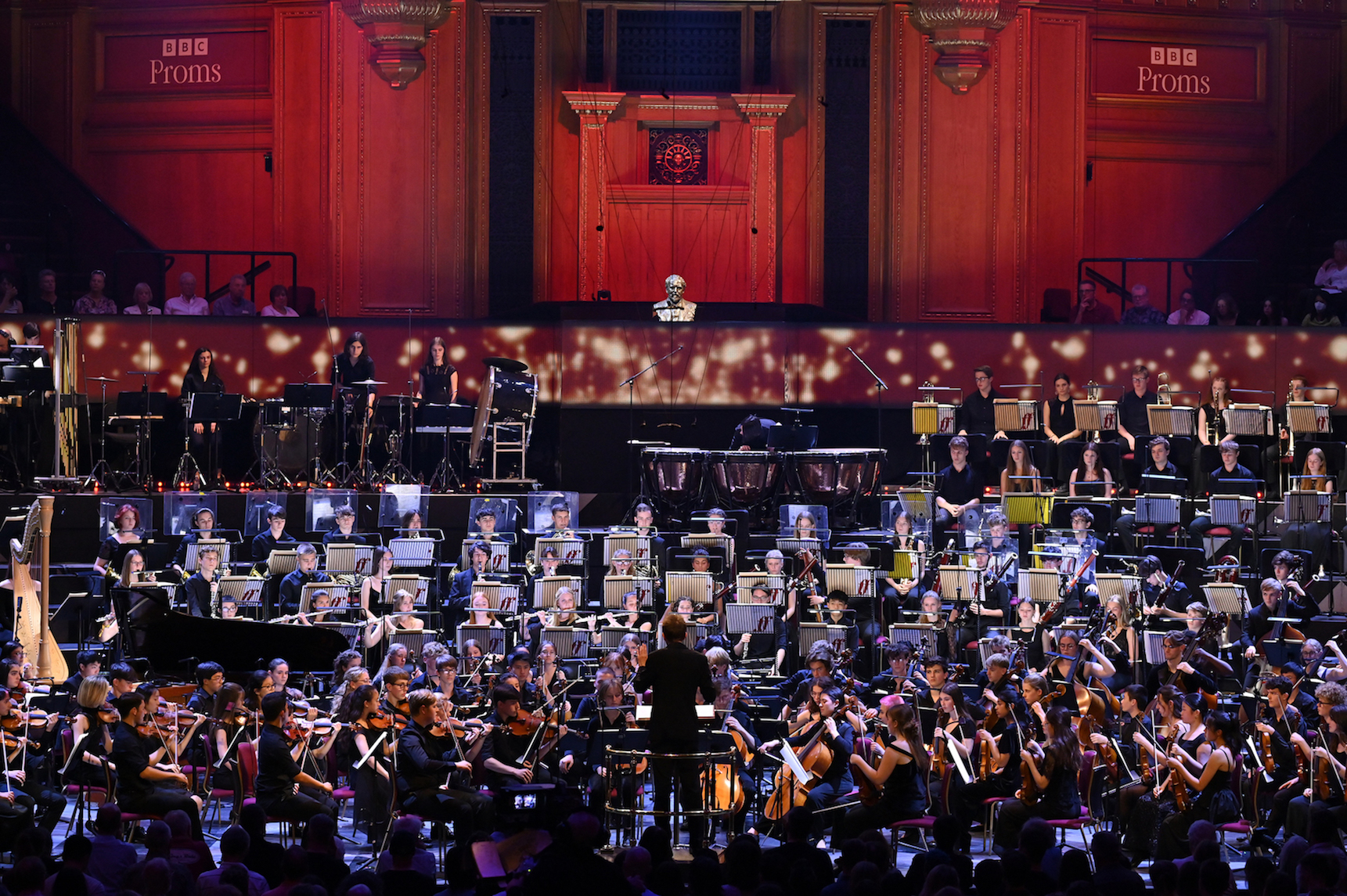 In its full-dress iteration composed for the Ballets Russes in Paris, Daphnis and Chloe can feel like a protracted walk in the ancient woods that occasionally loses its way. Sumptuousness of sound alone – which the NYOGB gave us in fabulous abundance – can't always help you find the path again. Still, Gourlay made sure that he never lost sight of the dance thread that draws a line through all these scintillating colours. It gave this mythical landscape a living pulse. At the stomping ritualistic climaxes, he let us grasp that the super-artful rhythmic "primitivism" of Stravinsky's Rite of Spring – premiered by the same company only a year later – lay just in the offing. As for the Elfman, the orchestra themselves effectively supplied the vocalise part. We had also switched leaders, with Gabriella Bavetta taking over from Scott Storey: both shone in their solo violin spots.
Full-toned strings spearheaded some skin-tingling moments of orchestral surge and crash, as Ravel builds his walls of sound that then break apart into a hundred glittering droplets. The show-stopping "Daybreak" section saw the sun rise with a mystic frisson as well as overwhelming majesty, while the lighter dances kept a perky woodland freshness. But the religious and erotic dimensions of Greek myth demand strongly-accented solo voices, too. Gourlay found those above all from his assured, flavourful woodwinds. It's always invidious to pick out names, but principal flute Sofía Patterson-Gutiérrez delighted with her achingly expressive rendering of the nymph Chloe's travails. The oboes led by Emily Long deserve the same salute, as do – here and throughout the concert – Sam Balchin and the other trumpeters. But then the array of uncanny sounds so stylishly delivered by the percussion battalion (co-principals: Paddy Davies and Sophie Stevenson) lent the entire evening its firm backbone. And so on… A few hours in the company of the NYOGB will always help to dispel any prophecies of doom about the future of classical music in Britain. Last night was no exception, although the skies over musical education – and the arts generally – look sombre indeed. Now we need grown-up politicians who can play their supporting parts half so well. Don't hold your breath…
A few hours with the NYOGB will dispel prophecies of doom about the future of classical music
rating
Share this article