Prom 8, Kozhukhin, BBCSO, Stasevska review - Russian classics meet contemporary Iceland |

reviews, news & interviews
Prom 8, Kozhukhin, BBCSO, Stasevska review - Russian classics meet contemporary Iceland
Prom 8, Kozhukhin, BBCSO, Stasevska review - Russian classics meet contemporary Iceland
Romantic warhorses intriguingly placed alongside inscrutable Scandinavian newcomers
Dalia Stasevska conducts the BBC Symphony Orchestra in Prom 8
Russia meets Iceland: not the most obvious of juxtapositions.
But the connection between the four composers featured in Prom 8 is to be found in their filmic approaches: the two
contemporary
Icelanders are both better known as media composers than in the concert hall, while
Rachmaninov
and
Tchaikovsky
's sweeping styles have inspired film composers since there have been film composers. But while the Russians wear their hearts on their sleeves, the Icelandic composers' pieces were inscrutable, detached and demanding of a different kind of listening.
Jóhann Jóhannsson, who died at the age of 48 in 2018, wrote for film, TV, dance and theatre, blending orchestral and electronic sounds. The Miners' Hymns was a 2010 documentary about the Durham coalmines, and the extract of the score played here set slow moving strings against brass chords, in which the trombones and trumpets wavered microtonally in and out of tune, building an unworldly soundscape. Later in the piece electronics entered as a complex, unsettling, pulsing background.
Jóhannsson was inspired by the colliery brass bands of the north of England, and the hymns that formed part of their repertoire. But he completely reimagines these – no hint of fanfare or march, but rather strings with a pair of tubas (Sam Elliott and Jon Riches), or a choir of horns in a strange, restrained ritual. It's hard to describe adequately but I found it completely absorbing and 10 minutes didn't feel enough.
It segued directly into the tolling bells of the beginning of Rachmaninov's Second Piano Concerto. The join worked pretty well and I am a big fan of experimenting with concert formats in this way: a five minute gap while the piano was wheeled into place would have broken the spell.
Rach 2 is one of my guilty pleasures. I have loved it since I was a teenager, at which point it was not typical of the music I was listening to. But I stand by my younger self's judgement: for all its familiarity it has an undeniable magic. The pianist was Denis Kozhukhin (pictured above by Chris Christodoulou) who did not take a heroic, look-at-me approach but played with humility and sensitivity. His restraint was compensated for by Dalia Stasevska, who was flamboyance itself, living every moment of the piece, as she did later with the Tchaikovsky. The slow movement was pitched to perfection, bookended by Richard Hosford's gorgeous clarinet solo and Kozhukhin's magical placement of the final notes.
Hildur Guðnadóttir (b.1982) (pictured below) is best known for her scores for Joker and Chernobyl (neither of which, I must confess, have I seen), and like Jóhannsson is stylistically and technically eclectic. Here she had the BBC Singers joining the BBCSO in a strange, haunting new piece called The Fact of the Matter. There was no printed text provided, so it's difficult to say what it was about – the composer says gnomically only that "there is no right without wrong, no left without right".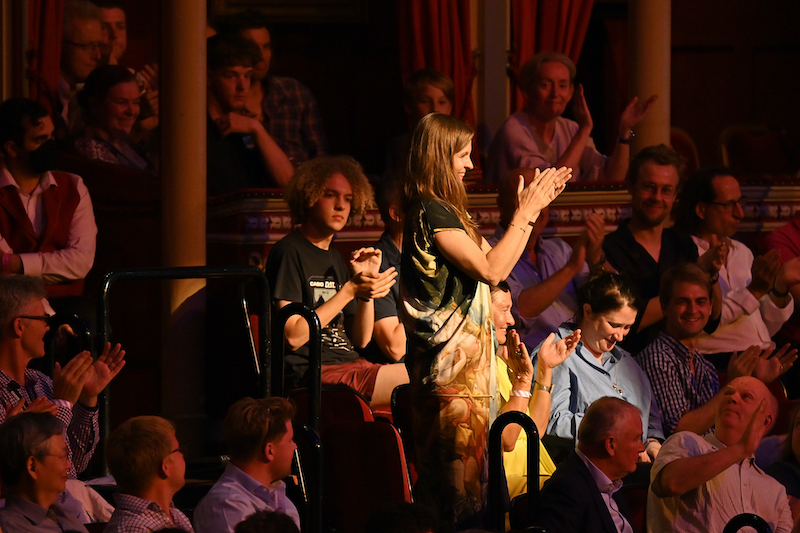 The music was as elliptical as the programme note, severe and ice cold, but exquisitely scored and intriguing. In some ways it was another strange hymn, like the Jóhannsson, a reimagined ceremonial music. The BBC Singers chanted and intoned, the orchestra hovered like a halo around the edges, before taking centre-stage in the granite-like final movement. An ideal palate-cleanser between the Rachmaninov and the Tchaikovsky.
If the Rachmaninov has always been a guilty pleasure of mine, Tchaikovsky's Romeo and Juliet has always been the opposite (a guiltless displeasure?): it's just never quite done it for me. But even I was swept along with Stasevska's energy and fire: she was thrilling to watch and ignited the orchestra with sheer force of personality, making for a very exciting performance.
I was swept along with Stasevska's energy and fire: she was thrilling to watch and ignited the orchestra with sheer force of personality
rating
Explore topics
Share this article