Berlinale 2021: Petite Maman review – magical musings on the parent-child relationship |

reviews, news & interviews
Berlinale 2021: Petite Maman review – magical musings on the parent-child relationship
Berlinale 2021: Petite Maman review – magical musings on the parent-child relationship
Céline Sciamma continues her startling run of perfect films, plus Daniel Bruhl's black comedy 'Next Door' and the tricksy 'A Cop Movie' from Mexico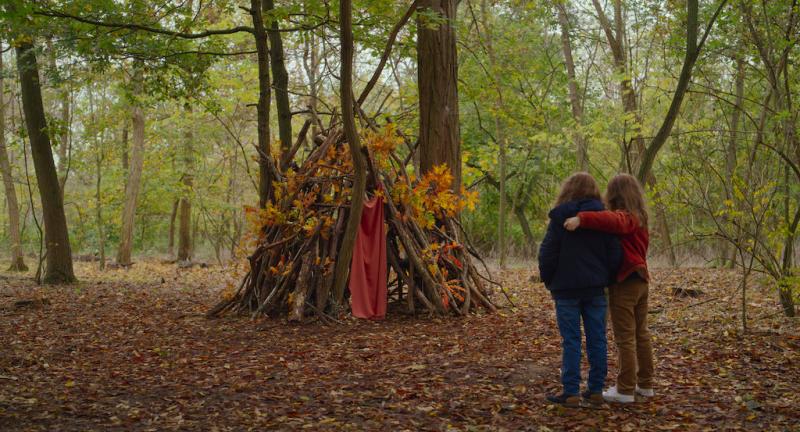 Far wiser than the grown-ups: Joséphine and Gabrielle Sanz in 'Petite Maman'
Hot on the heels of her 2019 triumph Portrait of a Lady on Fire, Céline Sciamma's fifth feature continues a perfect track record; this is yet another gorgeous and perceptive film, told from a determinedly female perspective but with a wisdom that is all-embracing.
Having started her career with films about children (Water Lilies, Tomboy), before moving to teenagers (Girlhood) and then adults (Portrait), Sciamma now takes on three generations at once – a girl, her mother and grandmother – to consider the threads of memory, personality and time that connect them. Her approach is one that is both magical and mysterious.
It starts in a nursing home, where a young girl moves from room to room, saying goodbye to its elderly occupants, having missed the one she really wanted to say goodbye to, her grandmother, who has just passed away.
This is eight-year-old Nelly (Joséphine Sanz), who now travels into the country with her parents to clean out her mother, Marion's childhood home, a house on the edge of a beautiful wood. Marion (Nina Meurisse) is pensive, sad. Nelly asks her why she never liked her childhood bedroom. "Child's stuff," the mother answers evasively, to which this wise young girl replies, "I'm interested. I'm a child."
The ingenuity and depth of feeling are positively thrilling
The next morning Marion has gone, leaving her husband (Stéphane Varupenne) to continue closing the house down without her. Meanwhile, Nellie ventures into the wood in search of her mother's old treehouse; when she finds it, another girl is playing there. Her name is Marion. And she looks exactly like Nellie.
Neither girl bats an eyelid at the resemblance, though Nellie does have a lovely little double-take when she discovers that Marion's home is exactly like her own. As the girls become friends and Nelly meets Marion's mother (who uses the same walking stick as her gran), Sciamma masterfully allows the myriad possibilities of this strange meeting – a child's imagination, an illusion created by grief, perhaps even something fantastical but real.
Whatever it is, Nellie uses these meetings to learn more about, and better understand her mother; at the same time, there's a sense that young Marion may discover some ease that she can carry into her future self. The excellence of Sciamma's writing and directing is such that the tone of the film remains at a gently low-key, almost nonchalant level, yet at the same time the ingenuity and depth of feeling are positively thrilling.
The director actively wanted twins to play the girls, and found them in Sanz and her sister Gabrielle, both of whom are extraordinary, revealing levels of nuanced intelligence and emotion that an adult actor would die for. Production design and photography are impeccable, with the whole film imbued with beautiful autumnal light.
Next Door ★★★

With his directorial debut, German actor Daniel Brühl has decided to send himself up, or at least a version of himself, with a merciless account of a pampered, preening movie star brought down a peg by an unexpected encounter. That said, Next Door is much more than a cheery comedy about a thespian twit's comeuppance; in fact, it's really quite dark.
A little like John Malkovich, who allowed Charlie Kaufman to make hay with his public persona in Being John Malkovich, Brühl has handed over his CV to writer Daniel Kehlman with the task of creating a "Daniel" with the worst celebrity traits. The film opens with the actor in his Berlin penthouse, preparing for a flight to London and a potential career-making audition for a superhero movie. It only takes shower and breakfast (while his maid keeps the kids out of the way) to establish that he's a self-absorbed and rather prissy individual. And whether being rude to Siri or smooth-talking his agent on the phone, smugness oozes from every pore.
On this of all days, Daniel makes a fatal mistake. Instead of taking his chauffeur-driven car straight to the airport, he decides to have a coffee in a dingy local bar. He's soon being eyeballed by the surly Bruno (Peter Kurth (pictured above right, with Brühl) who begins to offer his opinion on the actor's work – particularly his breakout film about Communist East Berlin (a reference to Brühl's own Goodbye Lenin!) as "inauthentic, west German romanticism". When Bruno opines that "nobody in the neighbourhood hams it up like that," we know he's not referring to the sandwich sitting in front of him.
Other pokes are made at Brühl's own work, for example the Netflix series The Alienist, while the actor actually does have a superhero movie under his belt, Captain American: Civil War. The self-mockery is wonderfully game. And yet there's a genuinely threatening edge to the stranger, who happens to live in Daniel's building and is very probably ex-Stasi. It turns out Bruno has had his eye on his neighbour for quite some time.
How this plays out is constantly surprising – and quite nasty – with Kurth killing it as a man at once malevolent, manipulative and a bit pathetic. Brühl the director ably orchestrates the sleazy barflies in the background and his own character's frequent attempts to get the hell out of there – only to be reeled in by another scabrous revelation from his tormentor.
A Cop Movie ★★★
Netflix has produced the latest from acclaimed Mexican director Alonso Ruizpalacios (Güeros, Museo), which is certainly handy given that the film demands an immediate repeat viewing. Branded as non-fiction in the Berlinale, it's not exactly that, but a very, very smart foray into the inventive borders between documentary and fiction, with a dash of "infiltration" by the filmmakers into the world of the Mexican police force that is incredibly audacious.
The least said about the interplay of these elements the better. Let's just say that it follows two police officers, Tereza and Montoya, as they patrol the city – he on foot, she in a squad car – and mull over their careers: the family reasons for each wanting to be police officers, their pleasure in the work but, increasingly, the pressure created by the ingrained corruption around them.
Ruizpalacios is playing with fire a little with his opening section, focussed on the patrolling day-in-the-life, which verges on tedium and is only saved by the vibrant bustle of Mexico City life captured by his cinematographer Emiliano Villanueva.
Once the film gets into its revelatory stride, however, it really is something, Ruizpalacios's crafty, critical agenda casting the earlier proceedings in a whole new light. Incidentally, A Cop Movie could one day make a great double bill with Midnight Family, released in the UK this time last year, an out-and-out documentary that casts an equally depressing spotlight on the same city's healthcare system.
Sciamma masterfully allows the myriad possibilities of this strange meeting
rating
Explore topics
Share this article