Blu-ray/DVD: Neon Bull |

reviews, news & interviews
Blu-ray/DVD: Neon Bull
Blu-ray/DVD: Neon Bull
Rough but sensual, an enthralling immersion in Brazil's rodeo world
The naturalism of Gabriel Mascaro's Neon Bull has an engrossing inconsequence – if that's not a contradiction in terms – that surely betrays the Brazilian director's origins as a documentarist. Narrative in any traditional plot sense is the least of the film's concerns, subordinated to our growing engagement in the distinctive world that it captures, which is that of the vaquejada, the rodeo community of the country's Nordeste region. It's Mascaro's second feature, and although he's moved on to working with professional actors, the collective achievement here is to dial down any sense of thespian presence or process to almost nothing.
There's little sense of beginning or ending, nor of urgency or haste, and the director and his Mexican DP Diego Garcia (who went on to work with Apichatpong Weerasethakul on Cemetery of Splendour) certainly relish the long shot. Instead, its highlights involve moments that concentrate the nuances of interrelationships between protagonists, and reveal different aspects of their lives. This dusty, dirty cowboy world is lived close to the earth, and brings contact with animals – horses as well as bulls – but its macho elements are tempered by surprises that reveal unexpected aspects of gender dynamics (however abstract that term feels for so spontaneous a film).
Sex is in the air throughout the film, but not always where you would expect
The rodeo element in vaquejada involves releasing bulls from pens, for them to be brought down, sometimes by the tail, by two riders over a short distance of the arena; the animals appear not to be harmed, and the travelling company moves around from one event to another in a large open lorry that provides living space for humans and beasts alike. The chief vaqueiro, or bull-wrangler, is the lithe Iremar (Juliano Cazarré), supported in an unlikely partnership by the rotund, lethargic Zé. They are the male element in an "alternative family" grouping completed by Galega (Maeve Jinkings), who drives the lorry (and repairs it), and her often stroppy pre-teen daughter Cacá (Aline Santana; the two women, pictured below). We may guess that Iremar's unspoken closeness to Galega indicates a past relationship, but Cacá is the child of a different (absent) father, although Iremar certainly plays a paternal role in her life: one scene reveals movingly how he responds to her vulnerability.
But this vaqueiro's other fascination is fashion, and he designs and makes the outfits that Galega wears for the stylised dance routines she performs to wild applause from the wider (exclusively male) rodeo crowd: the stage act is completed by a horse mask, complete with mane, and hooves for feet, over Iremar's scanty, body-clinging threads. Sex is in the air throughout Neon Bull, but not always where you would expect: one comically bathetic scene has Iremar and Zé sneaking into a bustling night-time horse auction to attempt to steal sperm from a stallion (the procedure is as graphic as you might expect).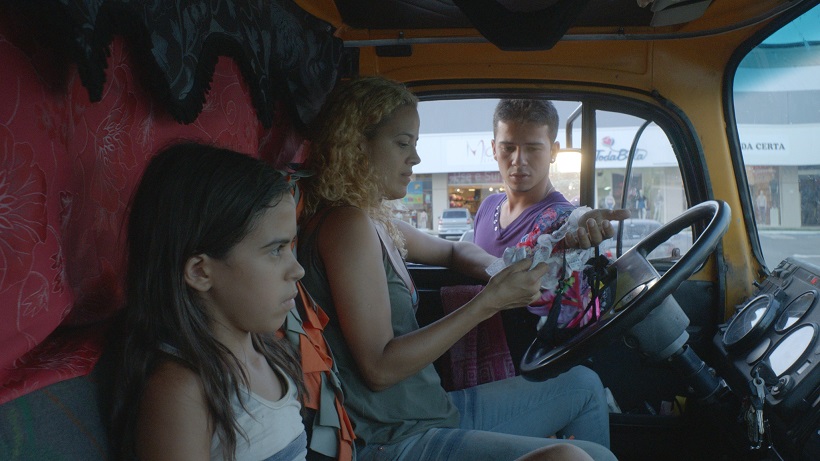 The repercussions of that bring a third bull-hand into the action, one who combines the masculinity of the occupation with an obsession with keeping his long hair elegant. If that seems an unexpected combination in such rough-and-tumble surroundings, it brings on some steamy passion. The film's extended final scene – an addictive single shot of eight minutes or so – sees Iremar fascinated not only by his engagement with a woman, but also by the surroundings of the clothing factory where they have their tryst, as part of a different world in which he would like to be involved.
Mascaro's achievement is to absorb the viewer into the physical world of his film, from its almost inarticulate characters to the hand-to-mouth lives that they lead. (You might ponder similarities with the horse world of Andrew Haigh's Lean on Pete, namely the protagonists' total but resolutely unsentimental engagement with the animals which are part of their work.) The "Making of" feature which is one of the extras on this Second Run release gives a sense of how, through acting classes and improvisations, Neon Bull's cast prepared for and created the film's remarkable ensemble easiness.
The second extra here is a 30-minute interview with Mascaro from a 2016 Norwegian film festival, its subjects ranging from his documentary roots to the changing character of Brazil's North East (the director's native region), and its differences from the parts of the country, like Rio or Sao Paolo, that outsiders, not least cinema-goers, know so much better. Neon Bull won the Special Jury Prize in the Venice Horizons section back in 2015, and went on to festival success around the world, followed by distribution in all the territories you would expect – even the United States – except Britain. That oversight is now corrected: this is a film muscular in its execution, but one whose depths go far beyond such categories and resound long after its conclusion. Mascaro was only 32 when he finished it: we are sure to be hearing much more of him in the future.
Overleaf: watch the trailer for Neon Bull