LFF 2020: Supernova review – Stanley Tucci and Colin Firth shine as couple on the road |

reviews, news & interviews
LFF 2020: Supernova review – Stanley Tucci and Colin Firth shine as couple on the road
LFF 2020: Supernova review – Stanley Tucci and Colin Firth shine as couple on the road
Harry Macqueen's tale of love and loss, plus first looks at 'The Painter and the Thief', 'Rose: A Love Story'
Thursday, 15 October 2020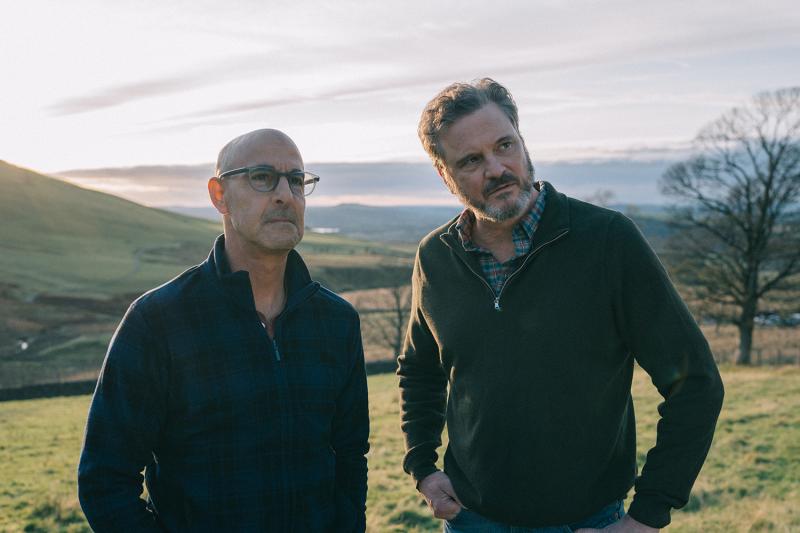 Stanley Tucci and Colin Firth in 'Supernova'
Unsurprisingly, there's a lot of pleasure to be had watching Stanley Tucci and Colin Firth as a mature couple pootling around the UK in their humble camper van. They bicker about the satnav voice, argue the merits of the shipping forecast, and both give such convincing performances that you'd think they'd been together for decades.
While this might all sound as comfy as an old sweater, director/writer Harry Macqueen
'
s (
Hinterland
) sophomore feature is anything but, being a tender, heartfelt
drama
concerning
love
and loss, and tackling the tough subject of dementia.
Tucci is Tusker, a successful novelist, Firth is Sam, a composer, and both have decided to take a career hiatus to go on a road trip following Tusker's diagnosis of early-on-set dementia. The journey is a joyful affair for the most part, with planned visits to family, but both are haunted by the knowledge that this trip is a swan song to their relationship before Tusker's illness worsens. Tusker is meant to be finishing his novel, but these days he's more interested in gazing at the stars.
Recent years have seen a slew of dementia dramas, Still Alice, Amour, and more recently The Father (also playing at LFF). Supernova holds up well against them as it explores what a dementia diagnosis does to a relationship, the shift in long-established dynamics, and how one half must sit in the knowledge that the person they love will slowly slip away from them.
Macqueen avoids any syrupy cliches, and instead strikes the right balance of gentle humour, plenty of heart, and flashes of drama that painfully capture the sorrow of both those who suffer from a dementia diagnosis, and those who care for them. This is a drama that deals with what can be said, can't be said, and won't be said. The all-too-real moments of a terminal illness and the aftermath.
Supernova isn't perfect, Keaton Henson's beautiful, full-bodied score sometimes competes with scenes rather than enhancing them, and it's debatable whether the film requires the final scene. These quibbles aside, this is Colin Firth's best performance in years, and Tucci's will surely be nominated at this year's awards for his sympathetic yet wry delivery in his role. It all contributes to a gentle, moving drama that captures the beauty of love and the pain of loss.
The Painter and the Thief ★★★★

This poetic documentary from Norwegian director Benjamin Ree concerns a bizarre art theft that occurred one snowy night in Oslo. The thief, heavily tattooed drug-addict Karl-Bertil Nordland, is quickly caught but can't recall where he stashed the painting. At his court hearing the painting's creator, Czech artist Barbora Kysilkova, approaches him to ask about the whereabouts of her work, but he genuinely can't remember. It's the embryonic moment of what becomes a turbulent friendship.
Told from the perspectives of both Kysilkova and Nordland, Ree's doc begins as a mystery caper, but shifts to explore the unlikely friendship of two emotionally-fractured people. One pours their pain into their work, the other is yet to find a way to ease the pain that began in childhood.
Nordland is a troubled soul trapped in the throes of addiction. It makes for a fascinating subject, but Ree captures all his tragedy and sorrow with care. A tremendously moving moment occurs when Kysilkova reveals a giant, photorealistic portrait of Nordland. He is awe-struck that someone would bother to paint him and see him as more than a drug-abuser, and starts to moan like a wounded animal. The pain of that scene is palpable, with years of trauma, fear and loneliness rising to the surface uninhibited. It's a moment that reminds you of the intimate power of documentary.
The Painter and the Thief begins as a surreal headline story, but becomes an incredibly moving piece of filmmaking, touching on the power of creativity, what it means to be seen, but above all the ability of art to help heal the deepest of wounds.
Rose: A Love Story ★★★

What's in a name? In this debut feature from Jennifer Sheridan, the subtitle of the film proves to be all important. This remarkable indie title, written by actor and first-time screenwriter Matt Stoke, is a gothic romance set in the frozen wilds of Northern England.
Rose (Sophie Rundle) and Sam (Stoke) live in a secluded hut deep in the woods. There's an almost fairy-tale quality to their situation but, as with all fairy tales, darkness is never far away. Rose never leaves the homestead, locked in by Sam when he goes hunting for rabbits, the perimeter rigged with wind-chimes and dangling CDs, apparently to scare the birds. Has the world ended? Why can't Rose leave the house? The mystery builds, until it's revealed that Rose has a disease, one typically associated with a strong reaction to garlic and crucifixes.
There are plenty of conventional horror tropes, but the real strength of Stoke's script is in the exploration of the duo's marriage. Sam's dedication to Rose sees him attach leeches to his legs each night to keep her blood cravings at bay. He makes sure no beams of sunlight come in, and keeps the generator ticking. His love is one of patience and maintenance, but it is also misguided.
When a young teenage wayfarer stumbles on one of Sam's bear traps her leg snaps, and Sam takes her in. It's here that the film hits more conventional territory, building to an inevitable conclusion.
Stoke proves himself a deft screenwriter, whilst Sheridan has crafted a beautiful, magical-looking indie horror, full of equal measures of love and blood.
Macqueen avoids any syrupy cliches, and instead strikes the right balance of gentle humour, plenty of heart, and flashes of drama
rating
Explore topics
Share this article