Nineteen Gardens, Hampstead Theatre Downstairs review - intriguing, beautifully observed two-hander tilts power this way and that |

reviews, news & interviews
Nineteen Gardens, Hampstead Theatre Downstairs review - intriguing, beautifully observed two-hander tilts power this way and that
Nineteen Gardens, Hampstead Theatre Downstairs review - intriguing, beautifully observed two-hander tilts power this way and that
With echoes of Beckett and Chekhov, a grown-up play for grown-ups
Saturday, 11 November 2023
Olivia Le Andersen and David Sturzaker in Nineteen Gardens - do you come here often?
A middle-aged man, expensively dressed and possessed of that very specific confidence that only comes from a certain kind of education, a certain kind of professional success, a certain kind of entitlement, talks to a younger woman. Despite the fact that she isn't really trying, she's attractive, bright and just assertive enough to weave a spell of fascination over men like him, with a tinge of non-dangerous exoticism evidenced by her East European accent to round things out.
They are catnip to each other. And so it had been until almost two years ago. A torrid affair had been conducted, shagging around Paddington's pay-by-the-hour hotels, both enjoying the break from moribund marriages, transgression heightening desire all the way to 11. But her husband found out, she told her lover and he broke it off without so much as a reply to the email.Though, as men so often do, at least partly to underline the power disparity to the very end, he asked her to contact him if ever she needed anything.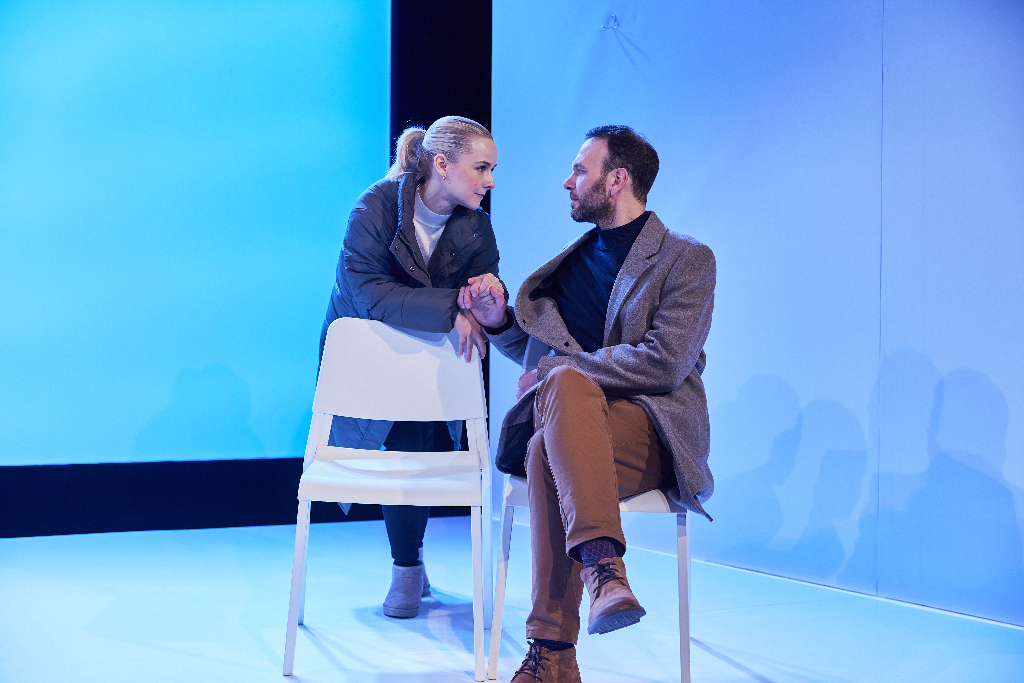 Well, now she does. Fed up with cleaning those same hotel rooms in which they once cavorted, eaten up by the wealth and security he enjoys in contrast to the poverty and precarity of her own life, she does ask for something – quite a lot as it happens. And when he says no, she reaches for the weapon at her disposal – the other woman's power over the wife.
Magdalena Miecznicka's first play in English is a deliciously dark two-hander comedy, one that has echoes of Beckett but reminded me, in tone if not all details, of Chekhov's oft-dramatised short story, The Lady With The Dog. The dialogue is sometimes off-kilter (deliberately so) and Sarah Beaton's bare set adds to an otherworldly quality, John and Aga seemingly detached from the reality when in each others' company, reflecting the escape of the surrender to the passion that underpins illicit affairs. Anyone who has felt the tang of the forbidden fruit on their lips will recognise that state.
Much credit goes to the actors in their excavation of the depths within the writing. As John – a loaded name – David Sturzaker (pictured above with Olivia Le Andersen) is supercilious, insensitive and arrogant, but, as much as John protests (perhaps too much) that he loves his wife, he definitely loves Aga – right up to the point that he has to do something discomfiting about it. As the object of his lust, Olivia Le Andersen is perfectly cast, brimming with intelligence and justifiable resentment, but you can see exactly how she fell for this man, for all his faults and you can see how she harbours residual desire, English middle class charm yet again going a long way towards the ruin of a woman.
Playing in Hampstead Theatre's studio space and delivered by its associate director, Alice Hamilton, in an intense hour, any false step on stage would go off like a fire alarm in a Starbucks, but there is not one, the narrative's complexities and contradictions eased into our consciousness by seductive performances and a perceptive script. Sure some will see the social critique of London's widening social inequality in the foreground (Aga saves £1.80 by getting the bus rather than the Tube – David doesn't really do either), but it's in its examination of the power dynamics between a man and woman, both damaged, both with plenty to offer the other, both antiheroes, that the play really stands out.
The closing scene, which appeared disappointingly glib as bows were taken but, reflecting en route home, left so much unsaid that its ambiguities and possibilities just multiplied, is particularly satisfactory. Just maybe, the ruthless blackmailer had met her match in the ruthless banker, who had indeed thought about what to do about her demands and conjured a fiendish plan. At least he didn't wriggle quite sufficiently to have his cake and eat it, though he probably will with someone else. Men like that do.
Any false step on stage would go off like a fire alarm in a Starbucks, but there is not one
rating
Explore topics
Share this article