Here, Southwark Playhouse review - award-winning kitchen sink drama goes down the drain |

reviews, news & interviews
Here, Southwark Playhouse review - award-winning kitchen sink drama goes down the drain
Here, Southwark Playhouse review - award-winning kitchen sink drama goes down the drain
The prestige of the Papatango Prize cannot rescue a play that fails to transcend its inexplicable limitations
Thursday, 17 November 2022
The cast of Here - mercifully without the haze of the mesh netting to which the audience were subjected
The kitchen sink drama has been a standby of English theatre for 70 years or more, but not always with an actual sink on stage. But there it is, in an everyday home that harbours a secret or two in Clive Judd's debut play, the winner of the 2022 Papatango New Writing Prize.
Matt, distracted and not wholly at ease, pitches up unannounced at the house in which he grew up, just outside Kidderminister, one of the more faceless towns in one of the more faceless regions of England. His cousin, Jess, seems listless, neither pleased nor displeased to see him some two years after last he was in town, somewhat ominously, for a funeral. Ennui hangs in the air, though both are well past their teenage years.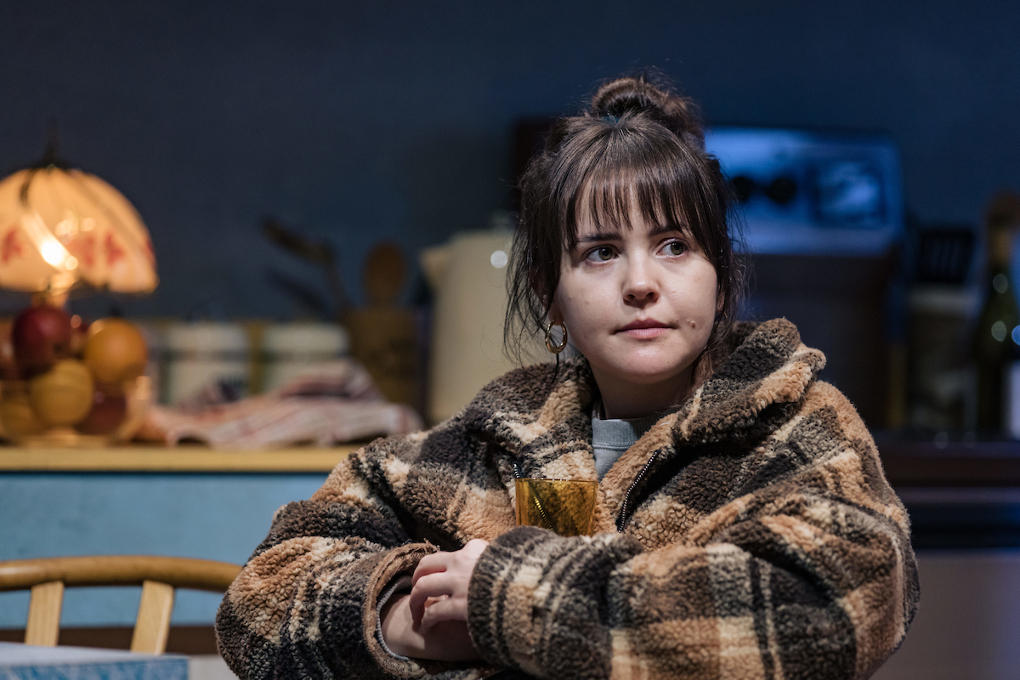 Things perk up when Jess's mother, Monica, turns up, all raucous energy, with her husband (but not Jess's mother) Jeff, henpecked but amenable. But soon enough, Monica has descended to cloth-eared entitlement, Jeff is stressing to a pathological degree, Jess has pushed off to her much older, much disapproved, girlfriend's house and Matt is re-thinking his decision to come back.
And then things deteriorate.
The play must have impressed the prize jury with its willingness to pack in the issues: intergenerational conflict, LGBT prejudice, men's mental health, addiction, left-behind communities, fractured families, depression, homelessness, hopelessness and plenty more, all leavened with a soupçon of the supernatural. The play is trying so hard to say so much, it forgets the building blocks of drama - character, plot and jeopardy.
The actors do what they can, but, inevitably, fall into soap opera stylings. Sam Baker-Jones fares best, charming in the first act with his kooky eccentricities and unaffected approach to life. But he has to carry a subplot about recording spooky voices that only he can hear, humourless hokum leads nowhere beyond a predictable denouement. Hannah Millward (pictured above) gets the mardy daughter right (we see an awful lot of them written by male playwrights) but has to deliver some very stilted speeches in the second act, disappointingly so, as Judd can write sparky dialogue when he wants to.
Mark Frost overcooks his gentle, decent, damaged Jeff, clanging the pots and pans when cooking Chicken Kievs (an uncomfortable unintentional reminder that we're very much watching First World Problems here) and then sulking in the garden. A middle-aged man who can't talk about his problems - who knew? Lucy Benjamin goes even further over the top as the dipsomaniac Monica, perhaps the least likable character amongst an unattractive bunch, like her daughter, we soon dread her interventions. We get that they're the products of 21st century pressures that fracture families but, jeez, it's hard work spending two and a half hours in their company.
Like the supernatural sidelines, a promising examination of how a church group can help with psychological problems goes nowhere - one can only surmise that presenting Jeff as pulling himself up by his own bootstraps or as a success story for NHS social care, would have worked against the gloom that descends like a fog. Richey Edwards of the Manic Street Preachers gets name-checked in a play full of disappeared people, but is clumsily over-explained - how many in the audience would not have got the allusion?
Speaking of fog, director, George Turvey, encloses his cast in an all-enveloping cube of translucent mesh. One presumes it's a metaphor for their claustrophobic lives, the difficulty of seeing futures beyond the confines of their dysfunctional upbringing and of how communication always gets blurred, but it just reminded me of the irritation of steamed-up glasses when wearing a Covid mask. As a device for a scene or two, okay; but two and a half hours?
One can see potential in this play, particularly in the good-natured bickering that is too soon abandoned, but quite how the Papatango jury shuffled this entrant to the top of its pack is inexplicable. It gives me little pleasure to write so negative a review for a first-time writer, but the contrast with another debutant, Philippa Lawford, whose brilliant new play, Ikaria, as garnering super reviews at The Old Red Lion Theatre, could not be more marked. Nobody can know whether theatre's alchemy will spin base metal or gold until the play is up there in front of us - but it's unusual to witness so stark a difference in theatrecraft over the course of just a few days.
The play is trying so hard to say so much, it forgets the building blocks of drama - character, plot and jeopardy
rating
Explore topics
Share this article