Best of 2022: Classical music concerts |

reviews, news & interviews
Best of 2022: Classical music concerts
Best of 2022: Classical music concerts
Epic chamber sequences dominate another overwhelmingly rich year
Wednesday, 28 December 2022
Pure heaven: tenor Karim Sulayman sings Hahn songs arranged by Tom Poster (left), with violinists Elena Urioste and Melissa White, viola-player Rosalind Ventris and cellist Laura van der Heijden
While the call for livening up the concert format remains dubious – beyond unusual settings and a will to communicate, the rest is window-dressing – there's always a special buzz about festival-like concatenations of events. For that reason, four one- or two-day chamber spectaculars have stood out for me this year.
The most innovative was Chamber Domaine's Bach Brandenburgs Plus day at West Malling Abbey in Kent, masterminded by music@malling's Thomas Kemp, violinist and conductor. The idea of matching each of the concertos with a new work using the special forces involved isn't new, but this event offered the serendipitous experience of six commissions which all worked unforgettably in very different ways (from very different composers – Brian Elias, Daniel Kidane, Michael Price, Deborah Pritchard, Joseph Phibbs, Stevie Wishart and Brian Elias). The very happy nature of the marathon, with five of the six composers present and mingling with a very diverse audience (the nuns of the abbey included), left us all on a high. There's one big sadness, though: one of the two recorder-players, Emma Murphy (third from the right as pictured below), subsequently died at the untimely age of 49. She seemed as happy as anyone on the day..
Of narrower score but offering so much range from a single composer was a weekend at Snape offering all Britten's voice-and-piano song cycles from one soprano, two mezzos, five tenors, two baritones – and one pianist, Malcolm Martineau, spell-binding everyone together. So much great poetry, too; the revelations among the unremitting pleasures and harrowings for me were The Holy Sonnets of John Donne as delivered by Nicky Spence, the Six Hölderlin Fragments from Robin Tritschler and first hearing of lyric-dramatic young soprano Siân Dicker in the Pushkin cycle The Poet's Echo (in Russian – Britten never ceased to amaze).
As always, the East Neuk Festival in Fife continued to deliver, and I wonder if more great instrumentalists and chamber musicians have ever delivered so many towering interpretations in a single day as piano duo Pavel Kolesnikov and Samson Tsoy (in such a beautiful interweaving of Beethoven marches, Kurtág, Poulenc and Strainvsky), their mentor and friend Elisabeth Leonskaja (playing Beethoven's last three piano sonatas in the afternoon), and later the unsurpassable Pavel Haas Quartet with another phenomenal pianist, Boris Giltburg in Dvořák (the five pictured below by Neil Hanna in rehearsal) . I even managed an interlude – part of a parallel day of so-called "world" music clashing with the classical events – by hearing consummate oud player Rihab Azar in fascinating tandem with affable folk singer-songwriter Luke Daniels.
A French cornucopia marked out two morning and afternoon concerts from another musical mastermind, Tom Poster, and his Kaleidoscope Chamber Collective at the Wigmore Hall. Again, so many riches, acquaintance with more remarkable musicians, and so much unfamiliar music – shame on me for never having heard Faure's giddying D minor Piano Quintet live before – before a real riot of an animal carnival rounded it all off.
Two of the BBC's Total Immersion days in 2022 yielded more revelations in context. "Music for the End of Time" in January, focusing on Czech-Jewish composers murdered by the Nazis, included Schulhoff's brutal, tough Fifth Symphony with Alpesh Chauhan in magnificent control of the BBC Symphony Orchestra.. And "Sibelius the Storyteller" peaked again and again, partly because the Finnish master rarely wrote a less than riveting work; we usually hear only the tip of the iceberg. The absolute zenith was the BBCSO's adored chief conductor Sakari Oramo and his wife Anu Komsi repeating a success they initially presented in Oramo's first ever concert with the orchestra back in 2011, the creation-myth song/tone-poem Luonnotar. It can safely be said that Komsi owns this work (the soprano pictured below with Oramo and members of the BBCSO by Mark Allan). These sorts of spectaculars, enriching our knowledge, amount to one good reason why we need a BBC funded by the licence fee.
Each Mahler symphony provides an epic world, a festival of sorts, by itself, so it's not surprising that four performances make the shortlist. Alexandra Coghlan chooses Vasily Petrenko's marshalling of his Royal Philharmonic Orchestra and massive vocal performances in the Eighth Symphony at the Royal Albert Hall (one we missed here, sadly); Stephen Walsh hailed Markus Stenz's conducting of the BBC National Orchestra of Wales in the Ninth as "a riveting, deeply sympathetic performance without gratuitous rostrum antics or perspiration"; only three weeks later, I could say the same about a stunningly fresh interpretation of it from Vladimir Jurowski returning to what had until recently been "his" London Philharmonic; and simply miraculous orchestral playing and flexibility came from the Berlin Philharmonic under the mercurial, magical Kiril Petrenko at the Proms in a hallucinogenic Seventh. I hadn't thought anyone could out-spook Rattle's take on it in a previous Prom, but this one did.
Simon Thompson and Christopher Lambton relished the Royal Scottish National Orchestra's return to fulll forces with young musicians from the Royal Conservatoire of Scotland under Thomas Søndergård in another blockbuster which is gradually being taken more seriously, Richard Strauss''s An Alpine Symphony. Simon writes: "During covid restrictions I thought it would be a decade before I heard live anything that required as many musicians as this. The fact that the RSNO and the students of the RCOS played it with such brilliant drama and glittering colour cemented it not only as my best musical night of 2022 but as a symbol for how far we've come."
Other outstanding conductors made big splashes both at the Proms and beyond. The rise of 26-year-old hyper (but not over-hyped) musician Klaus Mäkelä (pictured above by Chris Christodoulou) continues, not least with the news that he will eventually take over the helm of Amsterdam's Royal Concergebouw Orchestra. His Oslo Philharmonic Prom included a mesmerising partnership with Yuja Wang in a work I'd never thought I could actually love, Liszt's First Piano Concerto; but the overall stunners were a programme in Oslo culminating in a totally hair-raising performance of Bartók's Miraculous Mandarin Suite (those strings, ferocious!) and an out-of body Sibelius Fifth at the Barbican preceded by another fine partnership with Lise Davidsen in Berg and Sibelius orchestral songs.
Wang's "impassioned intelligence" in Rachmaninov's First Piano Concerto also impressed Boyd Tonkin in the first of the Czech Philharmonic's concerts under its inspiring Music Director Semyon Bychkov: Boyd found "blazing post-invasion solidarity with Ukraine...in a mighty and spectacular account of Smetana's uncut Ma vlast".I was surprised by the genial flow of their Dvořák Eighth Symphhony - Bychkov's favoured zone used to be earth, not air - and stunned by the performance of Janáček's Glagolitic Mass with a blazing City of Birmingham Symphony Orchestra Chorus in the second Barbican concert.

It's also been an exceptionally good year for John Wilson, ready to unleash ever more lustrous playing from his Sinfonia of London. Their Elgar "Enigma" Variations at the Proms was the most nuanced I've ever heard. Robert Beale hailed his Vaughan Williams anniversary programme with the BBC Philharmonic in Manchester's Bridgewater Hall, a rare pairing of the "London" and "Antarctic" symphonies. I kick myself for missing a real rarity of a programme at the Barbican, back with the Sinfonia of London; Alexandra writes of it, "seeing some of the top pros playing like a youth orchestra, with that focus and abandon and commitment and joy, was just electrifying. And Wilson's re-edited original versions of Gershwin's An American in Paris and Ravel's Boléro were a revelation". I can echo her in the Phiharmonia Sunday "pops" programme unleashed with panache by Santtu-Matias Rouvali, and packed to the rafters with a truly mixed audience.
The Pärnu Music Festival in Estonia's "summer capital" always yields searing, brilliant-sounding performances from Paavo Järvi and his Estonian Festival Orchestra, but the most moving event for me this time was the epic four-hour, three-part concert with the young Academy Orchestra allowing each of the trainee conductors on the annual course run by the Järvis to show their very different skills. We even heard each of the four movements of Haydn's Symphony No. 95 twice in the central panel, daunting in principle but fascinating in practice. And then, at the other end of the age scale to the youngest entrant – and 15-year-old Kasper Joel Nõgene was no mere gimmicky turn – the patriarch of the festival, Neeme Järvi, 85, having had to miss the previous two festivals, came back in glorious style conducting the young people in Josef Strauss's Dynamiden Waltz (pictured above after accolades).
The other riches I enjoyed on mainland Europe came from the inspired planning of Musikfest Berlin, and a vintage (for the festival, otherwise rare indeed) shock of fabulous scores by Xenakis, Zimmermann and Dallapiccola, done once again at the most extraordinary level by Kirill Petrenko and the Berlin Philharmonic – so revelatory I went twice. That meant sacrificing one of the events in "Prayse! Berlin…[church] office for a city that never sleeps", a rich programme of free choral concerts spread over 24 hours in the most spectacular of 1930s Expressionist churches. Top choirs from Berlin, Tbilisi and London (our adored Tenebrae, no less, pictured below by Fabian Schellhorn) worked together and apart, and what else coming up to midnight but Tallis's Spem in alium with the choristers positioned all around us?
Bernard Hughes heard Tenebrae on home turf, singing Joby Talbot's Path of Miracles – "a piece they commissioned and have performed many, many times – but this mainly young Tenebrae line-up sang with thrilling intensity". Sebastian Scotney found the visit of the Estonian Philharmonic Chamber Choir under founder-doyen Tõnu Kaljuste to Kings Place "as spectacular as could be hoped or dreamed". And the great choral send-off of the year came from John Eliot Gardiner's tireless, always revitalised Monteverdi Choir and English Baroque Players sending Bach's great Christmas Oratorio soaring in its entirety over two nights.
Talbot and Bach benefited from the triumphant new season in St Martin-in-the-Fields, which also yielded my favourite piano recital of the year, from George Xiaoyuan Fu, interweaving Chopin, Caroline Shaw and Rzewski with typical intelligence and – when needed – ferocity (Rzewski's "Winnsboro Cotton Mill Blues", roof-raising). Equal care in planning came in a beautiful and often moving sequence at the heart of the Dublin International Chamber Music Festival in which five Irish/Northern Irish women pianists of all ages, from Veronica McSwiney (82, but still in fine form) to two (I'm guessing) twentysomethings, focused on pieces dear to them alongside requests from heroic frontline folk. Ruth McGinley made a special impression in an arrangement of an Irish folk-song by Neil Martin – the subsequent CD is hypnotic – and Massive Attack's "Teardrop", chosen by hospital porter Niall Bogue.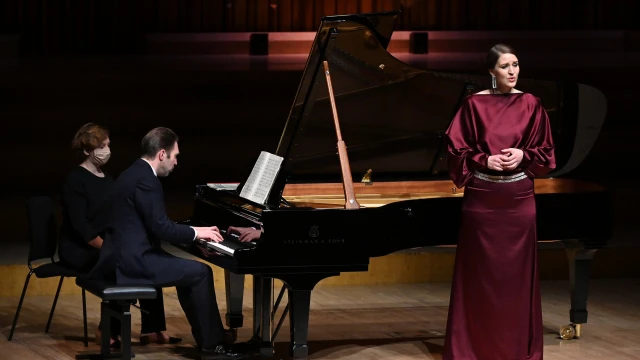 Other recital choices return us to London. Gavin Dixon chose Leif Ove Andsnes' diverse programme, "culminating in Dvořák's colourful Poetic Tone Pictures, op. 85, a work he has recently recorded (the recording, too, is highly recommended)". The Grieg first half of Andsnes' recital with Lise Davidsen confirmed another relative rarity, the Haugtussa (The Mountain Maid) song cycle as a masterpiece (the two pictured above by Mark Allan). Sebastian chose Gidon Kremer's 75th birthday concert back at the Wigmore. The Latvian violinist has always fought against Russian injustices, and acknowledged a strong alliance here in a concert given "just a few days before the Ukraine invasion but everyone onstage deeply knowing and feeling it was going to happen".
Rachel Halliburton's highlights were Igor Levit's "Herculean evening of performance" at the Wigmore "in which he wrestled with big beasts of the repertoire including Busoni's transcription of six of Brahms' Choral Preludes and Liszt's Sonata in B minor", and "the growing success of Through The Noise which uses crowdfunding to bring classical music to nightclubs, my particular favourite being Roberts Balanas displaying virtuosic brilliance at the Omeara Club with a repertoire that ranged from Bach to Billy Eilish". If I end with a more classical official programme, the last I heard this year – though the Wigmore keeps on going up to and including New Year's Eve – then maverick genius Pavel Kolesnikov (appearing here for the second time) also spring a couple of surprises upon us. With his generation breaking the boundaries at the highest level, the future is brilliant..
Miraculous orchestral playing and flexibility came from the Berlin Philharmonic under mercurial Kirill Petrenko in a hallucinogenic Mahler Seven
Explore topics
Share this article