Best of 2022: Opera |

reviews, news & interviews
Best of 2022: Opera
Best of 2022: Opera
A pocket 'Patience' sits alongside perfect Poulenc from Glyndebourne and concert Handel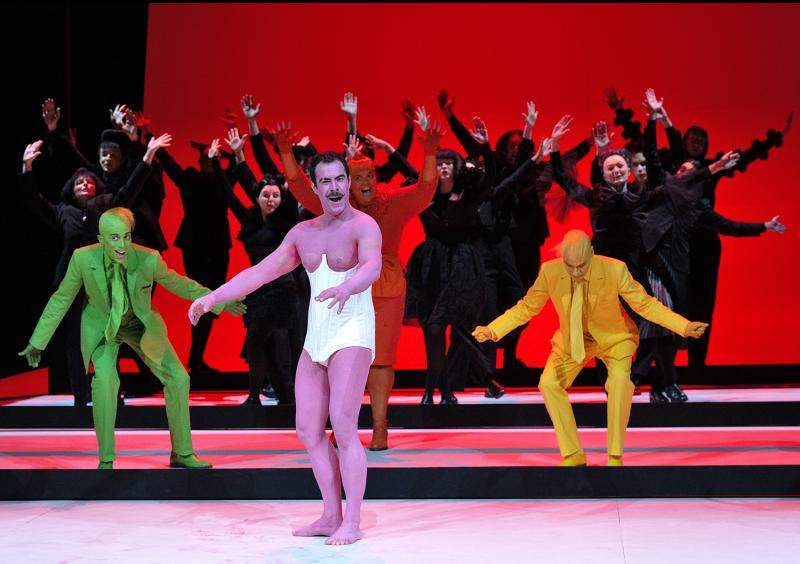 Régis Mengus as the sex-swapping husband in Poulenc's 'Les Mamelles de Tirésias' at Glyndebourne
Looking through everything we've covered this year – and some of our reviewers have made their choices from an even wider sphere – I find, as in 2021, that the abundance of classical-concert top choices is richer than the number of truly outstanding opera productions. Personally, I've seen only three performances in the UK that ticked all boxes (production, singing, conducting, top quality work) and three abroad, despite limited travel.
Curiously, the one that brought me most joy was Charles Court Opera's pocket Patience at Wilton's Music Hall, turning exigence to creative advantage in having three "melancholy maidens" rather than Gilbert and Sullivan's "twenty lovesick" ones trailing after an aesthetic, would-be-Wildean sham, in an overall cast of nine, superlative from new operatic talent to seasoned singer-actors (no discredit to the indisposed Bunthorne on the night I went if there were cheers for our leading Savoyard and CCO resident genius John Savournin stepping in – though even he didn't steal the show). The other Wilton's delight, an American import so good I went twice, had better find a place here, as it won't elsewhere: Only an Octave Apart, a tightly-knit extravaganza running every gamut with top counter-tenor Anthony Roth Costanzo (whose Gluck Orpheus, even when meeting comedy, was the best you'll hear anywhere), consummate trans cabaret artist Justin Vivian Bond (the two pictured below by Ellie Kurttz) and a luxury instrumental ensemble of nine (arrangements by Nico Muhly, no less). It's a rare thing for an audience to fall for the performers from the start, so that everything is generously received, but these two are so at ease with who they are that anything seemed possible.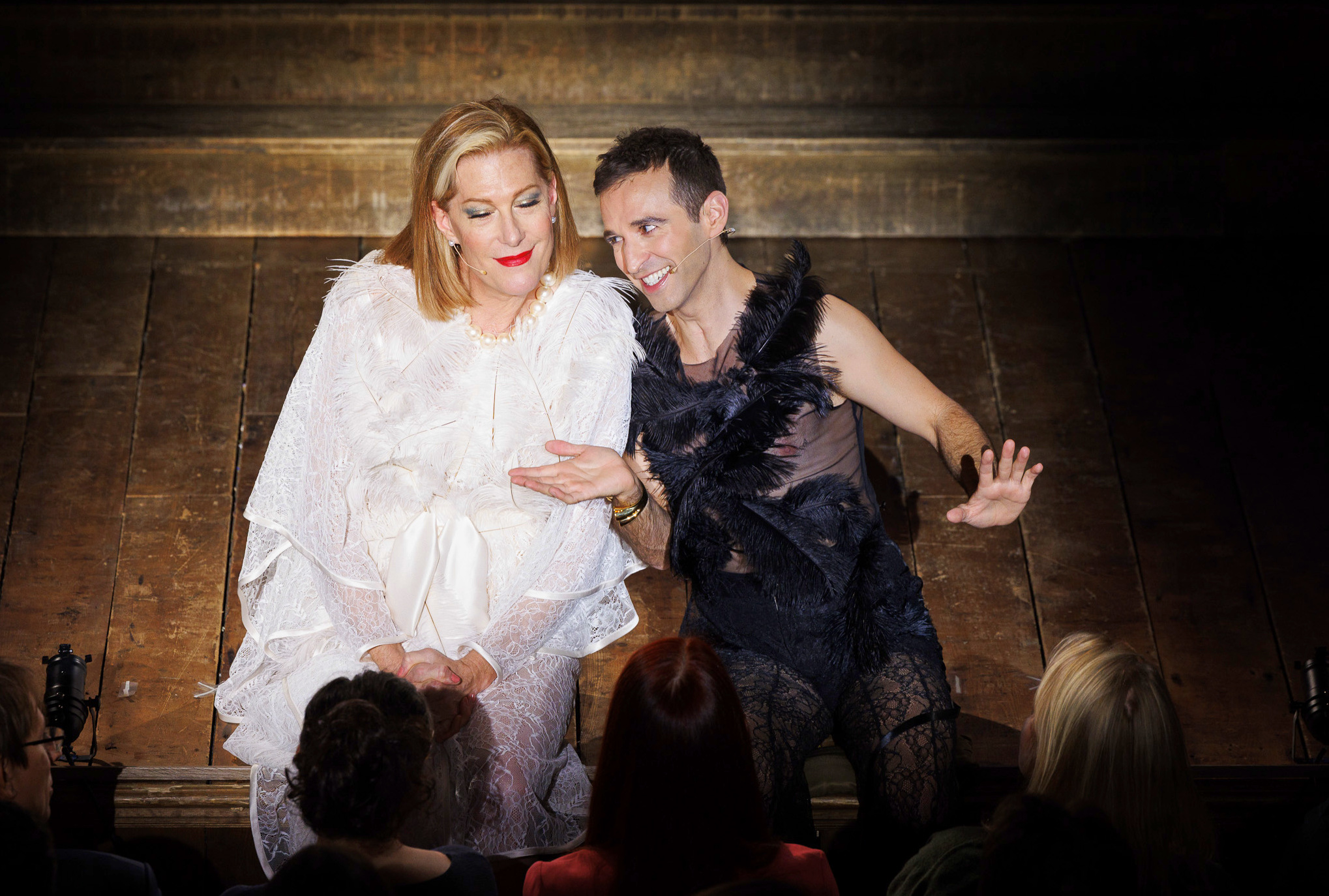 Equal for sheer exuberance, this time with high style throughout, was the concert performance of Handel's Serse in St Martin-in-the-Fields with Harry Bicket conducting an on-fire English Concert and five superb leading ladies led by Emily D'Angelo's Persian king. She didn't flame quite as much at the first night of Alcina at the Royal Opera – Sebastian Scotney, who saw a later performance and has made it one of his two choices, assures me she was top-notch by then – and there was surprisingly little fizz from the Royal Opera Orchestra under Christian Curnyn. But Richard Jones's production solved all issues with a creepy-edged elegance (animal heads by Antony McDonald) and Lisette Oropesa is a total star (pictured below by Bill Knight).
She'd been the one top singer in the first cast for Oliver Mears' production of Verdi's Rigoletto, which seemed like a different staging when I saw the revival in February (Rosa Feola just as good a Gilda, Luca Salsa's Rigoletto and Francesco Demuro's Duke also outstanding). Jones also hit the mark solving the problems of Saint-Saëns' Samson et Dalila, starring (it's the only word) Elīna Garanča and delivering the problematic Bacchanal (choreography by Lucy Burge) and final scene in the Temple of Dagon with style and humour.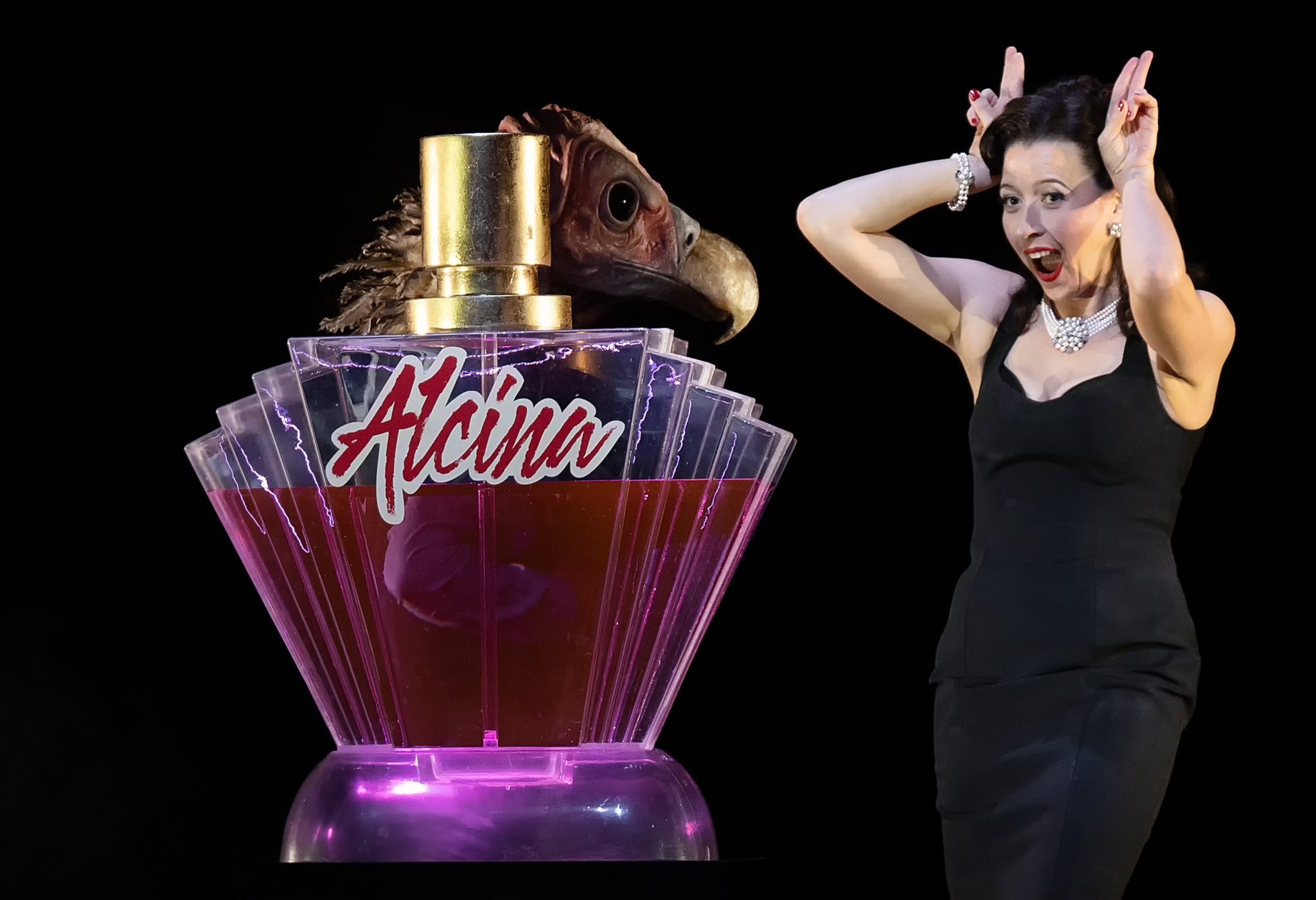 While the Alcina orchestra sagged, the playing in the pit, this time from an 11-piece ensemble, really rocked for Irish National Opera's production of Vivaldi's Bajazet in a visit to the Royal Opera's Linbury Theatre; for me, the wow factor came from Peter Whelan directing the Irish Baroque Orchestra from the harpsichord. Alexandra Coghlan loved it all: "[director] Adele Thomas is really going places and I loved the restraint of the direction, the beauty of the design and the emotional intensity" (pictured below: Claire Booth, Niamh O'Sullivan and James Laing), INO casts so intelligently: Donizetti''s Maria Stuarda isn't an opera I'd go out of my way to see without top bel canto stylists as the Scottish and English Queens at loggerheads; it had those in Tara Erraught and Anna Devin. And it was good to round off the year of discovering INO with Orpha Phelan's pocket touring production of Don Pasquale, blessed by a zestful cast and a blissfully brilliant orchestra of 12 under Teresa Riveiro Böhm.
My first experience of Wexford Festival Opera served up a turkey (Halévy's La tempesta), a light and pretty if overlong opéra comique deliciously staged by Phelan (David's Lalla-Roukh) and Dvořák's musically brilliant but hard to stage Armida yielding a predictably world-class performance from the best of young lyric-dramatic sopranos, Jennifer Davis. The Wexford opera recital given by Ukrainian baritone Stanislav Kuflyuk and his partner Ruslana Koval was also a communicative highlight of the year.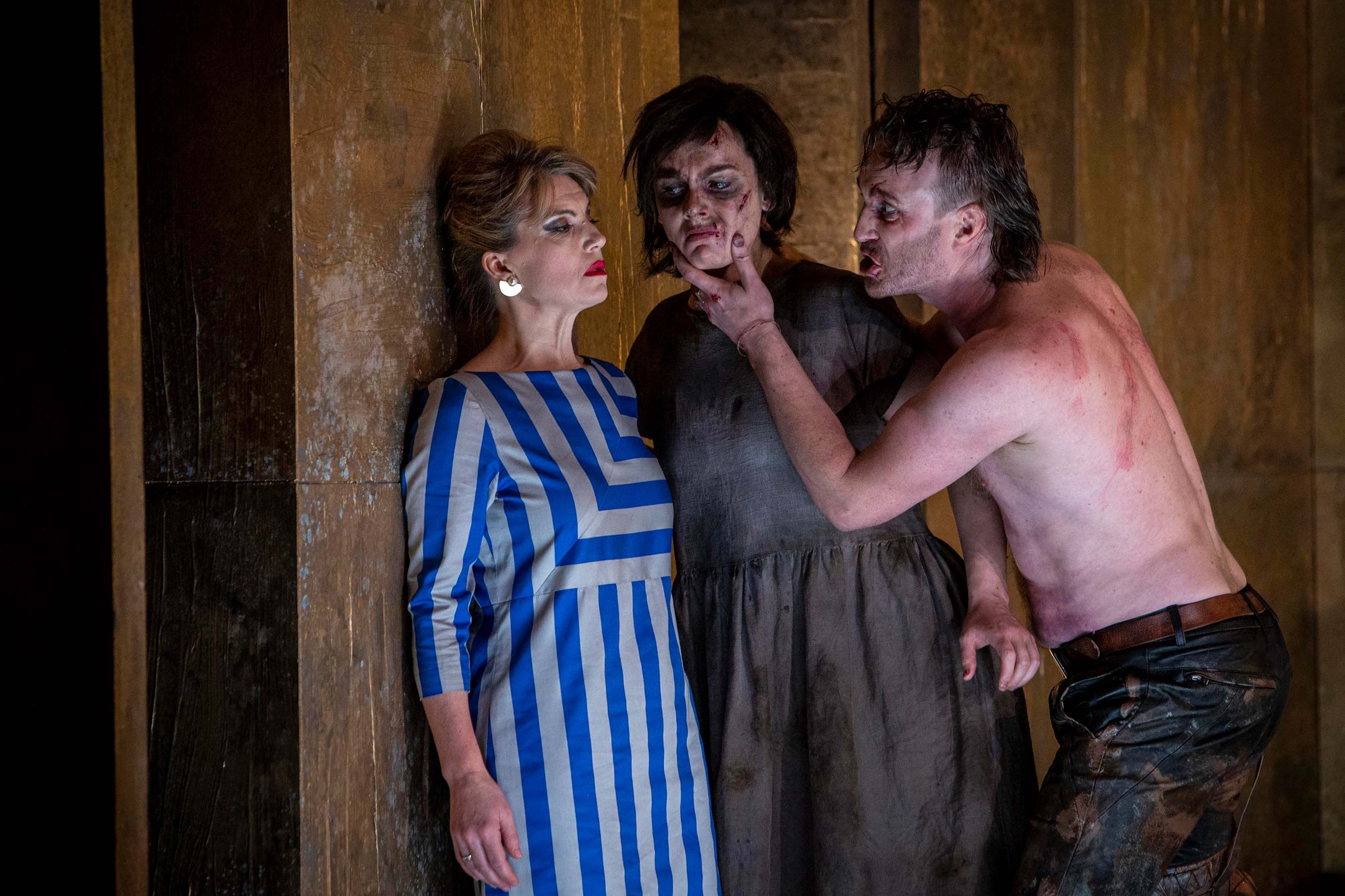 Our critics to the north and west found plenty to relish. Stephen Walsh hails Olivia Fuchs's "powerful" production of Janáček's The Makropulos Affair for Welsh National Opera, "subsequently performed in the composer's home city, Brno, with, I'm told, sensational success"; it was WNO Music Director Tomáš Hanus's second visit with the company to his native Czechia.
Miranda Heggie hailed Golijov's Lorca opera Ainadamar, "a ferocious mix of opera and flamenco in a production – a collaboration between Scottish Opera and Opera Ventures, and co-produced with Detroit Opera, the Metropolitan Opera and Welsh National Opera – which is both aurally and visually stunning throughout". I desperately want to see both these productions, and what I've caught on OperaVision of Opera North's Orpheus, a radical fusion of classical Italian and Indian music, is stunningly original; you can watch it below.
Robert Beale's Opera North choice, though, was Wagner's Parsifal in "a 'concert' presentation which used the theatre's architecture incredibly well to become a powerful visual experience, too." Robert also chose Puccini's Madama Butterfly from Mark Elder and the Hallé in Manchester "with Eri Nakamura the big star in the title role: another concert performance but thrillingly done."
Summer opera coverage was less than in 2021, when the first companies to come fully out of lockdown focused our attention and stole the show. We clearly shouldn't have missed Monteverdi's Orfeo at Garsington, now also on OperaVision, though I did thrill to the Garsington revival of Britten's The Turn of the Screw, while Christopher Lambton counted himself lucky to have caught Elin Pritchard's outstanding stand-in performance as Dvořák's Rusalka when the Garsington production hit the Edinburgh Festival. A hit for both Sebastian and Richard Bratby was Korngold's Die tote Stadt undertaken at Longborough with, as Richard puts it, "not a trace of compromise from a company which is currently (let's not forget) in the middle of its second Ring cycle in a decade. And there's nothing that can't be achieved by an orchestra (under Justin Brown) that can play like that".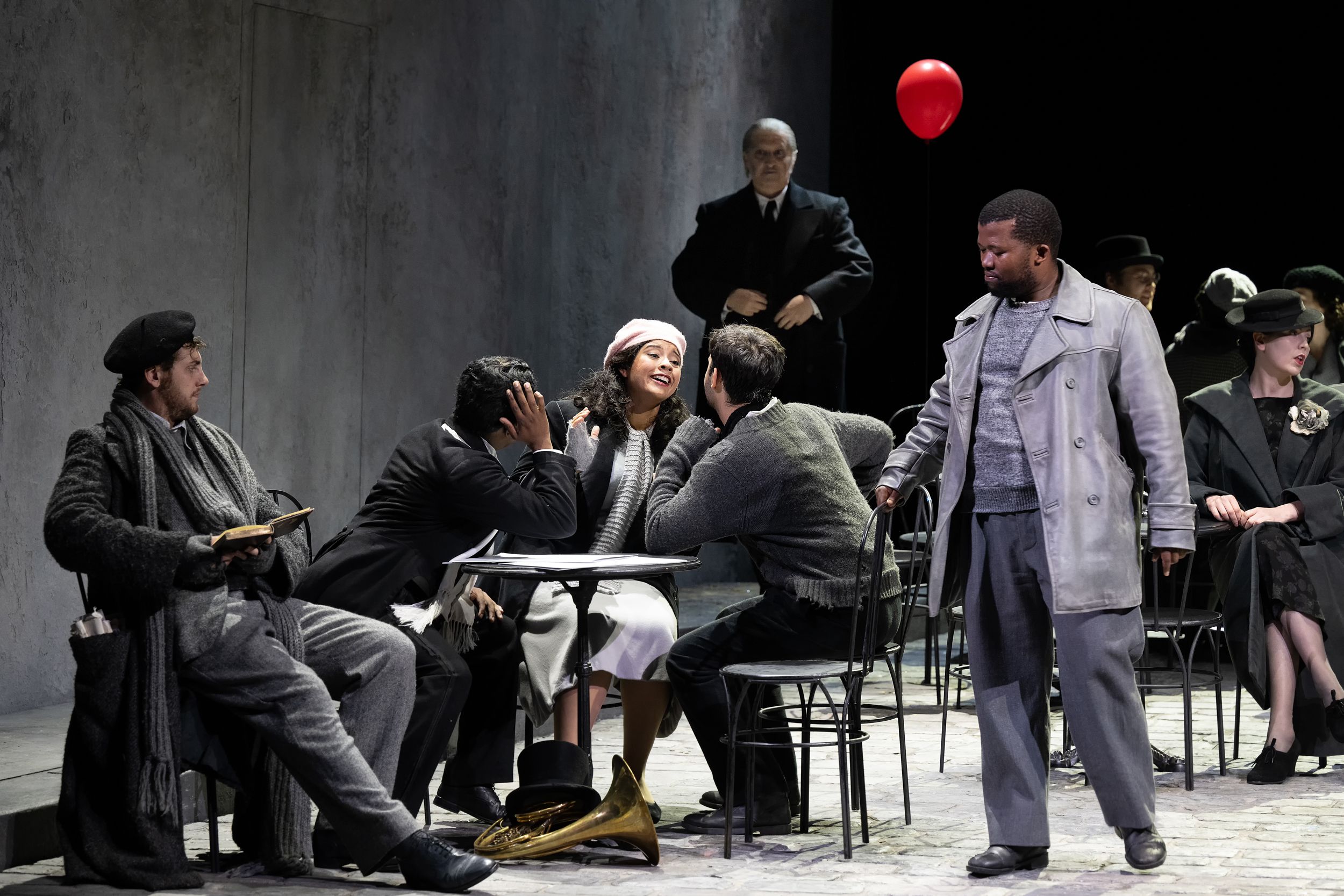 It was an exceptional season for Glyndebourne, though. Ethel Smyth's The Wreckers was exceptionally well prepared, performed – fine soloists, superb chorus – and conducted, though despite occasional beauties no masterpiece emerged. Music director Robin Ticciati's second venture of the season, though, was a total triumph: Poulenc's La Voix humaine and Les Mamelles de Tirésias. Who'd have thought they made the perfect couple? Laurent Pelly found dark and light in the most unexpected ways. I missed Floris Visser's sombre new staging of La bohème – death omnipresent, but most of the stage demands intact – in the main season, but the tour cast was revelatory (Momus scene pictured above by Bill Knight).
Standards of productions featuring young singers are as high as ever. I saw the Guildhall School's impeccably staged and sung double bill of Menotti's The Telephone and Judith Weir's Miss Fortune, rehabilitated in style; even if Weir's vocal lines don't feel idiomatic, it's a compelling story. British Youth Opera at Holland Park won me over completely to Vaughan William's Sir John in Love, a Falstaff take very much its own master, the fluent weave of authentic VW with English folksong beguilingly paced by Marit Stridlund conducting a top-notch Southbank Sinfonia (also a youth ensemble – bravi tutti).
The Poulenc apart, the total-work-of-art perfection I caught was on the continent, in the start of Andreas Homoki's new Ring with Das Rheingold in Zurich (Loge "advising" the gods pictured above by Monika Rittershaus) – the best I've seen staged, ideally cast, with an acting space that really dealt with the box of tricks, and translucently conducted by Gianandrea Noseda – and in Jiří Heřman's successful yoking-together of Janacek's last two major masterpieces, From the House of the Dead and the Glagolitic Mass (you can read all about my experience in Brno here).
No productions at English National Opera this year came up to those kinds of ideal, but orchestra, chorus and soloists worked their socks off; there were great performances in Tosca (Sinéad Campbell-Wallace and Adam Smith), in The Yeomen of the Guard (Alexandra Oomens and Heather Lowe) and even in Jake Heggie's ghastly travesty of Capra's It's a Wonderful Life (Jennifer France). Luckily Alexandra allows us to sign off with a pledge of what has to be a future for this consistently excellent company and her praise for the one-off concert performance of Britten's Gloriana: "the best thing ENO has done for ages, and a reminder of what the company is/should be all about: English/niche rep different from ROH and career development for British singers". Amen to that: may Arts Council England reverse its heinous decision following further talks in mid-January.
Who'd have thought the Poulenc one-acters made the perfect couple? Laurent Pelly found dark and light in the most unexpected ways
Explore topics
Share this article